Get Your Quote FAST!
Fill out the form and get a thermal oxide price quote.

25.4mm - 300mm from 200Angstroms to 15um oxide.
Buy as few as ONE wafer-at our online store!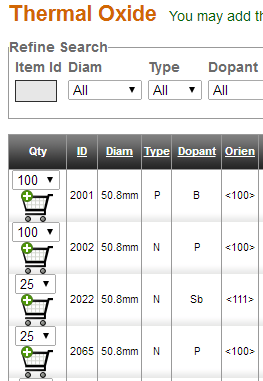 Buy Thermal Oxide on Silicon wafers in small or large quantities!
Wet Thermal Oxide
Wet oxide is grown on both sides of the wafer. We can grow oxide up to 15 microns. Great for for making Silicon-on-Insulator Wafers. 
Dry Thermal Oxide
By default dry oxide is grown on just one side of the wafer. Perect for very thin oxide layers.
Dry Chlorinated Thermal Oxide
Great for MOS and other active device fabrication processes. Using dry chlorinated thermal oxide can help your device to perform to its highest potential by eliminating metal ions.
Click here for our Oxide Growth Calculator.