Get Your Germanium Quote FAST!
You Can also find sales online here!
Which Keyword have you used to find this page? Tell us and receive a discount on your order!
germanium wafer price
germanium electrical conductivity
germanium wafer singapore
germanium wafer thickness
germanium wafers manufacturers
germanium wafer cost
germanium optical material
germanium optical properties
germanium optical transmission
germanium insulator wafer
germanium optical window
germanium wafer cleaning
germanium wafer supplier
germanium wafer
germanium electrical properties
germanium wafers utah
germanium optical absorption electrical resistivity pure
germanium
germanium optical glass
germanium-on-insulator substrates by wafer bonding
germanium optical grade
germanium wafers umicore
Germanium (Ge) Wafers
We have a large selection of Electrical and Optical Grade Germanium Single and double side polished wafers in stock and ready to ship.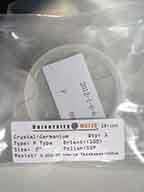 Below are just some of the Ge wafers that we have in stock:
Ge Substrate (111) 5 x 5 x 0.5 mm, SSP, P-type ,Ga-doped ,R: 0.005-0.01 ohm.cm
Ge Substrate: (100) 5x5 x 0.5 mm , SSP, P type Ga doped,R:0.0007-0.002 ohm.cm
Ge Substrate: (100) 5x5 x 0.5 mm , SSP, P type Ga doped,R:1-5 ohm.cm -1
Ge Wafer (100) 2" dia x 0.5 mm, SSP, N type ( Sb doped), resistivity:2.5-2.7ohm-cm
Ge Substrate: (100) 10x5 x 0.5 mm , SSP, P type Ga doped,R:1-5 ohm.cm
Ge Substrate: (100) 10x5 x 0.5 mm , DSP, P type Ga doped,R:0.1-0.5 ohm.cm
Ge Wafer (100) Undoped, 2" dia x 0.45 mm, SSP, resistivities: >50 ohm-cm
Ge Wafer (100) Undoped, 2" dia x 0.5 mm, SSP, resistivities: >50 ohm-cm
Ge Wafer (100) Undoped, 2" dia x 0.5 mm, resistivities: >50 ohm-cm, DSP
Ge Substrate (111) 5x5x 0.5 mm, DSP, Undoped
Ge Substrate (110) 5x5x 0.5 mm, SSP, Undoped
Ge Substrate (110)+/- 0.7 degree 5x5x0.5 mm, SSP,Sb-doped ,R:0.1-0.5 ohm.cm
Ge Substrate (110) 10x5x 0.5 mm, SSP, Sb-doped ,R:0.1-0.5 ohm.cm
Ge Substrate (110) 10x5x 0.5 mm, SSP, Undoped
Ge Substrate (111) 10x5x 0.5 mm, DSP, Sb-doped . 0.005-0.01 Ohm.cm
Ge Substrate (110) 10x5x 0.5 mm, DSP, Undoped
Ge Wafer Undoped, 1" dia x 0.5 mm, SSP (100) R:>45 Ohm.cm
Ge Substrate (100) 5x 5x0.5 mm, DSP, Undoped
Ge Wafer (110)N type, Sb doped, 2" dia x 0.5 mm, SSP Resistivity: 0.82-0.98ohm.cm
Ge Wafer (110)N type, Sb doped, 2" dia x 0.5 mm, SSP Resistivity: 1-5ohm.cm
Ge Wafer (110)N type, Sb doped, 2" dia x 0.5 mm, DSP Resistivity: 0.1-0.5ohm.cm
Ge Wafer (110)N type, Sb doped, 2" dia x 0.5 mm, DSP Resistivity: 1-5ohm.cm
Ge Wafer . Undoped, 2" dia x 0.5 mm, SSP (111) R >50 ohm.cm
Ge Wafer . Undoped, 2" dia x 0.5 mm, DSP (111) R >50 Ohm.cm
Ge Wafer (110) Ga-doped, 2" dia x 0.5 mm, SSP Resistivity : 0.1-0.5 ohm-cm
Ge Wafer (110) Ga-doped, 2" dia x 0.5 mm, SSP Resistivity : 1-10 ohm-cm
Ge Wafer (110) Ga-doped, 2" dia x 0.5 mm, DSP Resistivity : 0.1-0.5 ohm-cm
Ge Wafer (110) Ga-doped, 2" dia x 0.5 mm, DSP Resistivity : 1-5 ohm-cm
Ge Wafer (110) Undoped, 2" dia x 0.5 mm, SSP, R:>50 ohm.cm
Ge Wafer (110) Undoped, 2" dia x 0.5 mm, DSP,R:>50 ohm.cm
Ge Wafer (100) Undoped, 1" dia x 0.5 mm, DSP,R:>50 ohm.cm - GEUa25D05C2
Ge Wafer (110) Undoped, 1" dia x 0.5 mm, SSP,R:>50 ohm.cm
Ge Wafer (111) Undoped, 1" dia x 0.5 mm, SSP, R:>50 ohm.cm
Ge Wafer (111) Undoped, 1" dia x 0.5 mm ,DSP, R:>50 ohm.cm
Ge Wafer Undoped (100) 3" dia x 0.5 mm SSP resistivity: >50 ohm-cm
Ge Wafer Undoped (100) 3" dia x 0.5 mm DSP resistivity: >50 ohm-cm
Ge Wafer Undoped (110) 3" dia x 0.5 mm SSP resistivity: >50 ohm-cm
Ge Wafer Undoped (110) 3" dia x 0.5 mm DSP resistivity: >50 ohm-cm
GOI -Ge layer with <100> with 10 degrees towards the (111) on Insulator wafer,6" dia
Sale Price: Clearance! $
Ge Substrate (100) 10x10x 0.35 mm, SSP, Undoped
Ge Substrate (100) 10x10x 0.45 mm, SSP, Undoped
Ge Substrate (100) 10x10x 0.5 mm, SSP, Undoped
Ge Substrate (100) 10x10x 0.5 mm, DSP, Undoped
Ge Wafer (100) 2" dia x 0.5 mm, SSP, P type ( Ga doped), resistivities: 1-10 ohm-cm
Ge Wafer (100) 2" dia x 0.5 mm, SSP, P type ( Ga doped), resistivities: 0.1-0.5ohm-cm
Ge Wafer (100) 2" dia x 0.5 mm, SSP, P type ( Ga doped), resistivity: 0.001-0.005 ohm-cm
Ge Wafer (100) 2" dia x 0.5 mm, SSP, P type ( Ga doped), resistivity: 0.005-0.009 ohm-cm
Ge Wafer (100) 2" dia x 0.5 mm, SSP, P type ( Ga doped), resistivity: 0.01-0.1 ohm-cm
Ge Wafer (100) 2" dia x 0.5 mm, DSP, P type ( Ga doped), resistivities: 0.1-0.5ohm-cm
Ge Wafer (100) 2" dia x 0.5 mm, DSP, P type ( Ga doped), resistivities: 0.14-0.23 ohm-cm
Ge Wafer (100) 2" dia x 0.5 mm, DSP, P type ( Ga doped), resistivities: 0.23-0.24ohm-cm
Ge Wafer (100) 2" dia x 0.5 mm, DSP, P type ( Ga doped), resistivities: 1 - 10 ohm-cm
Ge Wafer (100) 2" dia x 0.5 mm, DSP, P type ( Ga doped), resistivity: 0.001-0.005 ohm-cm
Ge Wafer (100)+/- 2 degree , 2" dia x 0.5 mm, DSP, P type ( Ga doped), resistivities: 10-15 ohm-cm
Ge Wafer (111) 2" dia x 0.4 mm, DSP, P type ( Ga doped) Resistivities: 0.035-0.039ohm-cm
Ge Wafer (111) 2" dia x 0.5 mm, SSP, P type ( Ga doped), Resistivities: 0.022-0.026 ohm-cm
Ge Wafer (111) 2" dia x 0.5 mm, SSP, P type ( Ga doped), resistivities: 10-20 ohm-cm
Ge Wafer (111) 2" dia x 0.5 mm, SSP, P type ( Ga doped), resistivities: 1-10 ohm-cm
Ge Wafer (111) 2" dia x 0.5 mm, SSP, P type ( Ga doped), resistivities:0.005-0.01 ohm.cm
Ge Wafer (111) 2" dia x 0.5 mm, DSP, P type ( Ga doped) resistivities: 0.005-0.01ohm-cm
Ge Wafer (111) 2" dia x 0.5 mm, DSP, P type ( Ga doped) resistivities: 0.007-0.008ohm-cm
Ge Substrate: (100) 10x10 x 0.5 mm , SSP, N type Sb doped,R:0.1-0.5 Ohm.cm
Ge Substrate: (100) 10x10 x 0.5 mm , SSP, N type Sb doped,R:10-15Ohm.cm
Ge Substrate: (100) 10x10 x 0.5 mm , SSP, N type Sb doped,R>40 Ohm.cm
Ge Substrate: (100) 10x10 x 0.5 mm , SSP, P type Ga doped,R:0.0007-0.002ohm.cm-1
Ge Substrate: (100) 10x10 x 0.5 mm , SSP, P type Ga doped,R:0.001-0.005 ohm.cm
Ge Substrate: (100) 10x10 x 0.5 mm , SSP, P type Ga doped,R:1-5 ohm.cm
Ge Substrate: (100) 10x10 x 0.5 mm , DSP, N type Sb doped,R:0.01-0.1 Ohm.cm -1
Ge Substrate: (100) 10x10 x 0.5 mm , DSP, P type Ga doped,R:0.1-0.5 ohm.cm
Ge Substrate: (100) 10x10 x 0.5 mm , DSP, P type Ga doped,R:1-5 ohm.cm-1
Ge Substrate: (100) 5x5 x 0.5 mm , SSP, N type Sb doped,R:0.1-0.5 Ohm.cm
Ge Substrate: (100) 5x5 x 0.5 mm , SSP, N type Sb doped,R>40 Ohm.cm
Ge Substrate: (100)+/- 2 degree, 10x10 x 0.5 mm , DSP, P type Ga doped,R:10-15 ohm.cm
Ge Wafer (100) 2" dia x 0.5 mm, DSP, N type ( Sb doped), Resistivities: 1-5 ohm-cm
Ge Wafer (100) 2" dia x 0.5 mm, DSP, N type ( Sb doped), R:>40 ohm-cm
Ge Wafer (100) 2" dia x 0.5 mm, DSP, N type ( Sb doped), resistivities: 0.01-0.1 ohm-cm
Ge Wafer (100) 2" dia x 0.5 mm, DSP, N type ( Sb doped), resistivities: 10-20 ohm-cm
Ge Wafer (100) +/- 1 degree, 2" dia x 0.5 mm, DSP, N type ( Sb doped), resistivities: 0.1-0.5 ohm-cm
Ge Substrate (110) 10x10x 0.5 mm, SSP, Sb-doped ,R:1-5 ohm.cm
Ge Substrate (110) 10x10x 0.5 mm, SSP, Undoped, R>50 ohm.cm5
Ge Substrate (110) 10x10x 0.5 mm, DSP, Undoped
Ge Substrate (110)+/- 0.7 degree 10x10x 0.5 mm, SSP, Sb-doped ,R:0.1-0.5 ohm.cm
Ge Wafer (111) with 9.45 degree miscut , 2" dia x 0.5 mm, SSP, N type ( Sb doped), resistivities: 0.1-0.5ohm-cm
Ge Wafer (111) 2" dia x 0.5 mm, SSP, N type ( Sb doped), resistivities: 0.005-0.01ohm-cm
Ge Wafer (111) 2" dia x 0.5 mm, SSP, N type ( Sb doped), resistivities: 0.01-0.1ohm-cm
Ge Wafer (111) 2" dia x 0.5 mm, SSP, N type ( Sb doped), resistivities: 0.05-0.5ohm-cm
Ge Wafer (111) 2" dia x 0..5 mm, DSP, N type ( Sb doped), R: 0.005-0.01 ohm-cm-1
Ge Wafer (111) 2" dia x 0..5 mm, DSP, N type ( Sb doped), R: 0.007-0.009 ohm-cm
Ge Wafer (111) 2" dia x 0.5 mm, DSP, N type ( Sb doped), R: 10.5-15.2 ohm-cm
Ge Wafer (111) 2" dia x 0.5 mm, DSP, N type ( Sb doped), resistivities: 0.2-0.26 ohm-cm
Ge Substrate (111) 10x10x 0.45 mm, DSP, Undoped
Ge Substrate (111) 10x10x 0.5 mm, SSP, P-type ,Ga-doped ,R: 0.005-0.01 ohm.cm
Ge Substrate (111) 10x10x 0.5 mm, SSP, Undoped
Ge Substrate (111) 10x10x 0.5 mm, DSP, Sb-doped . 0.005-0.01 Ohm.cm
Ge Substrate (111) 10x10x 0.5 mm, DSP, Undoped
Ge Wafer (100) +/- 2 degree , 2" dia x 0.5 mm, SSP, N type ( Sb doped), R:0.1-0.5 ohm.cm
Ge Wafer (100) +/- 3 degree , 2" dia x 0.5 mm, SSP, N type ( Sb doped), R:0.1-0.5 ohm.cm
Ge Wafer (100) +/- 4 degree , 2" dia x 0.5 mm, SSP, N type ( Sb doped), R:0.1-0.5 ohm.cm
Ge Wafer (100) 2" dia x 0.5 mm, SSP, N type ( Sb doped), R:>40 ohm-cm
Ge Wafer (100) 2" dia x 0.5 mm, SSP, N type ( Sb doped), resistivities:0.01-0.1 ohm-cm
Ge Wafer (100) 2" dia x 0.5 mm, SSP, N type ( Sb doped), resistivities:10-15 ohm-cm
Ge Wafer (100) 2" dia x 0.5 mm, SSP, N type ( Sb doped), resistivities:1-5 ohm-cm
Ge Wafer (100) with 3 degree miscut , 2" dia x 0.5 mm, SSP, N type ( Sb doped), R:0.27-0.35 ohm.cm
Ge Wafer (100) 2" dia x 0.5 mm, SSP, N type ( Sb doped), Resistivities: 0.001-0.01 ohm-cm
Ge Wafer (100) 2" dia x 0.4 mm, DSP, P type ( Ga doped), resistivities: 0.1ohm-cm