Germanium (Ge) Substrates
We have a large selection of Electrical and Optical Grade Germanium Single and double side polished wafers in stock and ready to ship.
Buy online and SAVE. If you don't see the spec you need, let us know and we'll quote you!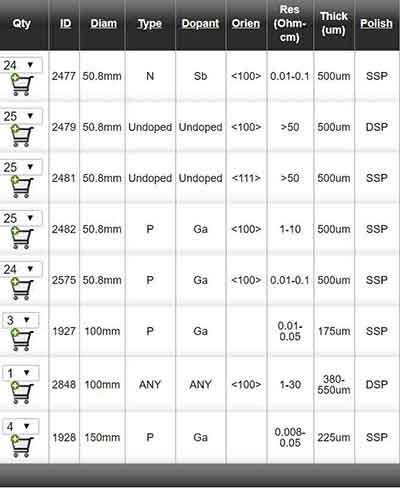 Germanium Wafers for Long-Wave/Mid-Wave Infrared Experiments
Clients have used the following Germanium spec.
Ge Item #1927 - 100mm P/Ga 0.01-0.05 ohm-cm 175um SSP Orientation: <100> 6° towards <111> ± 0.5°
I'm looking at using germanium wafers as windows for long-wave/mid-wave infrared experiment that I'm setting up. Based on the scale of the experiment I'm trying to get as large a window as possible. The information I've seen to date indicates that germanium has good transmittance, but I'm wondering if you can tell me how dopants like gallium might impact that infrared transmittance window. Specifically, I'm looking the spec above  – do you happen to have a transmittance spectrum for this product?