A Suitable Process For Crack-Free Wafer Boding With Silicon
A crack-free wafer can have multiple layers of defects and require a particular type of process. In this article, we discuss crack-free wafer boding processes for silicon and gallium nitride. You will also learn about other materials such as sapphire and al2o3.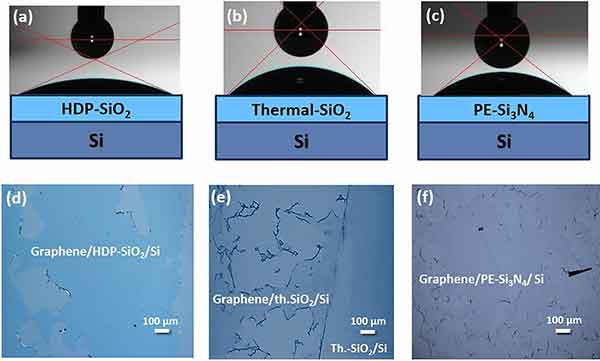 HDP-SiO2, Thermal Oxide, PE-Si2N4, Graphene, Silicon
Gallium Nitride
This insulator demonstrates unique optical and electrical properties, including an excellent aqueous stability. Its aqueous stability and biocompatibility make it a strong candidate for a variety of chemical and biological applications. Additionally, gallium nitride is highly amenable to molecular modification. For example, the surface of gallium nitride was functionalized using a peptide that promotes PC12 cell adhesion. The peptide was attached to the surface by covalent methods and by olefin metathesis.
This process was initially developed to fabricate crack-free n-type semiconductors, which have low-dimensional resistance and large free carrier concentrations. Using silicon as the base substrate, gallium nitride can be used for crack-free wafer boding with silicon. The n-electrodes are metallic-filled through-holes. The n-electrodes are placed on a temporary substrate, which allowed for thinning of the silicon substrate. The n-electrodes were removed by a wet chemical etch that utilized hydrofluoric-nitric-acetic acid.
GaN is an ideal candidate for crack-free wafer boding. The material is a great choice for high-performance devices. This process is also inexpensive and suited for low-temperature manufacturing in a Si wafer fab. Its low substrate cost and large diameter make it ideal for a number of applications. Further, the GaN/Diamond composite has the potential to replace silicon in extreme environments.
Sapphire (Al2O3)
A key benefit of this process is the ability to create crack-free wafers. This is achieved by using sapphire as a substrate and a silicon mask. During this process, the silicon wafer is cleaned by deionized water before being bonded to the sapphire. The resulting hBN layer can be as thin as the silicon native oxide, or as thick as the sapphire native oxide.
To prepare the samples for direct bonding with silicon, two sapphire pieces were cut along their cross sections. A piece was etched to a depth of 4 mm, with the other piece etched with a shallow cylindrical cavity. The minimum pressure load for direct bonding was set to 14.6 MPa using a custom furnace with a high initial pressure. The cross-section was coated with a thin gold film to image the etched pieces. The resulting images were analyzed using a scanning electron microscope and are shown in Figure 8a.
The sapphire sensing cavity is 5 mm in diameter and 4.8 um deep. In the optical interference between the two sapphire wafers, multiple colored Newton rings appear. These interference rings indicate a tight bonding between the two sapphire wafers. The sensor structure also lacks interference rings outside of the central cylindrical cavity. Sapphire is a suitable process for crack-free wafer boding with silicon.
This study demonstrated that ALD-deposited amorphous Al2O3 films can be fabricated at 200degC, and characterization by XRD and EDS showed a stable O/Al ratio. Surface morphologies and roughness values were similar. SE analysis indicated that the film thickness increased with ALD cycles at a rate of 0.1 nm/cycle. In addition, a UV-VIS transmittance spectrum revealed a uniform band gap, and no significant fluctuation was observed.
Another technique that is capable of producing crack-free silicon wafers is anodic bonding. This technique involves placing the silicon and glass wafers above one another and applying an electrode. This electrode may be a needle, full-area cathode electrode, or a chuck. The glass acts as the anode, and the silicon acts as the cathode.
Another method of crack-free silicon wafer boding involves the use of abrasive particles. Al2o3 particles can be adsorbate on abrasive particles and can form network structures under high shear rates. The strong hydrogen bonding of silica particles triggers a shear-thickening effect. Increasing temperature also affects the slurry's viscosity, and this is reflected in a Stribeck curve.
Silicon Wafer
Direct wafer bonding is a common manufacturing method, wherein the bonded surfaces are controlled by surface preparation and wafer flatness. Crack propagation is modeled using a spectral scheme, and the effect of surface roughness was studied by varying fracture-toughness on the bond interface. The energetics of crack propagation depend on the local variation in surface properties. Compared with unpatterned silicon wafers, patterned silicon is tougher than unpatterned ones.
In order to achieve a crack-free silicon wafer, the first step of silicon wafer bonding is to bond the surface of the wafer with a substrate. The process produces cavities in the wafer, which are crucial to subsequent high-temperature bonding. In particular, the presence of oxygen inside the cavity can be detrimental to subsequent bonding because it reacts with the silicon surface and creates a partial vacuum. In other words, the pressure in the cavity equals that of 20% air.
A suitable process for crack-free silicon waper boding involves three steps: the hydrating step, the liquid-phase eutectic alloy bonding layer, and the high-temperature anneal. The anneal temperature is the final step of the bonding process. The higher the temperature, the higher the bond strength. The process also involves a final step called a high-temperature annealing, which is performed between 800 and 1200C.
Wafer Bonding
Developing a crack-free wafer bonding process involves a number of factors. The following is a detailed description of the process. These factors are important to the development of high-quality, crack-free wafers. These processes are applicable to a wide range of devices, including micromechanics. They are a powerful process that can be used to bond silicon wafers together.
The semiconductor industry has developed several bonding processes for integrating different materials. It has become a critical tool in manufacturing advanced devices. This technique has several unique properties. The adhesive strength, power dissipation, and crosstalk must be minimal for accurate device structures. Other requirements include achieving good junctions. Silicon fusion bonding is one of these methods. Silicon-nitride-based bonding is another method.
Regardless of the method used, crack-free wafer bonding requires a pristine environment. The surfaces of the wafers are cleaned and hydrated. The process then contacts the wafers with one point. Surface attraction acts between the two wafers, causing them to adhere together as a wave. However, multiple points of contact may trap air pockets between them. Depending on the type of bond, multiple points of contact can also cause problems.
Light Emiting Diode (LED)
The advantages of led bodied silicon wafers over other boding processes include crack-free fabrication and higher quality. This technique allows for new design freedom, such as stacking different materials. It also enables fabrication of material combinations that are impossible to realize through conventional epitaxial growth. Led boding can be used for both conventional and advanced silicon wafer boding processes.
This process can produce crack-free silicon wafers because of the low-melting-point of the adhesive used in the process. It is also compatible with standard integrated circuit materials. This makes it a good choice for high-volume production of electronic components, including high-performance photonic devices. Further, the process does not restrict downstream processing. Further processing steps can be carried out at higher temperatures and under high vacuum, without any problem.
Direct silicon wafer bonding is a promising process for manufacturing of three-dimensional microelectronic devices. However, the process does have its limitations, and crack-free silicon wafers are not yet commercially available. It is possible to achieve crack-free silicon wafers through a crack-free boding process, although the bond quality decreases with increasing surface roughness.
The light-emitting diode process combines the copper substrate with an AlN-based metal reflector. It is the only process to eliminate the absorptive silicon substrate and introduce a single layer of gold metal between the electrodes. The resultant copper sub-mount has an improved p/n and n-bonding surface. It also eliminates the electro-shading losses.
The light-emitting diode device is comprised of two main layers: the exposed metal layer and the metal substrate. The metal layer is composed of at least one metal, such as Pt, Rh, Ru, or Au. Then, the metal layer is covered by a conductive sub-mount substrate. The sub-mount substrate is connected directly to the p-ohmic contact electrode and the metal pad that is used as the heat sink area.
The nitride semiconductor layer has a strong polarization field, resulting from strain in lattice-mismatched structures. This strain can cause emissions to shift in a red/long wavelength direction. A lower strain causes less QCSE and higher internal quantum efficiency. It may also lead to shifts in peak emission wavelength. In the copper-based LED, there was no wavelength shift.
Bonding Substrates
Suitable processes for crack-free wafer boding are important for semiconductor fabrication. These processes make use of silicon dioxide, which aids the transition of an electrical current from one state to another. Several processes can bond different types of semiconductor wafers, but all have the same basic steps. A suitable process for crack-free wafer boding with silicon can be found for a variety of high-tech devices.
IR imaging methods are widely used for characterization of wafers. They measure the crack length and determine the bond toughness of the material. The bond strength depends on the crack length, and uncertainties in this parameter can be large. In order to minimize crack length uncertainties, a suitable process for crack-free wafer boding with silicon should include controlled HF and temperature. Here are a few methods for crack-free wafer boding with silicon:
Direct silicon bonding is the preferred method for SOI-wafers and for SOI-with-cavities. Direct silicon bonding requires higher surface smoothness than anodic bonding. Moreover, the process requires high-temperature treatment and extreme surface quality with minimal chemical contamination. Hence, a suitable process for crack-free wafer boding with silicon should meet the requirements of the semiconductor industry.