Get Your Quote FAST!
Thermal Oxide Silicon Wafers for Spectroscopic Research of Flourescent Nanoparticles
A research client asks us which wafers they should use for their nanoparticle research.
The following wafers were purchased.
Si Item #452
100mm P(100) 0-100 ohm-cm SSP 500um Test Grade
Si Item #2795
100mm P/B <100> 1-20 ohm-cm 625um SSP Test w/ 300nm Wet Thermal Oxide
We have oxide thicknesses 10nm - over 10 micron thick. Buy as few as one wafer if sold online.
Thermal Oxide Deposition
We have access to the best equipment for both Wet and Dry Thermal Oxide Deposition on Silicon Wafers.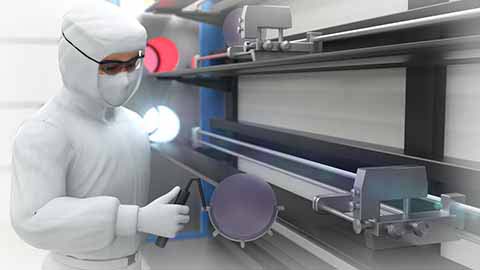 Below are just a small sample of the specs that you'll find online. We have both wet and dry and can deposit on one or both sides of the wafer. You can buy as few as one wafer!
We can also deposit oxide on the following tough to find spec:
100mm N/Ph (100) 0.001-0.005 ohm-cm 500um SSP or DSP Oxide Thickness is up to you!
| Dia | Type | Dopant | Ori | Res ohm-cm | Thk | Pol | Oxide Thk |
| --- | --- | --- | --- | --- | --- | --- | --- |
| 50.8mm | P | Boron | (100) | 1-10 | 280μm | SSP | 285nm Wet Oxide |
| 100mm | P | Boron | (100) | 1-10 | 500μm | SSP | 300nm Wet Oxide |
| 100mm | N | Phos | (100) | 1-10 | 500μm | SSP | 300nm Wet Oxide |
| 100mm | P | Boron | (100) | 1-10 | 500μm | SSP | 100nm Wet Oxide |
| 100mm | P | Boron | (100) | 1-10 | 500μm | SSP | 10,000nm (10μm) Wet Oxide |
| 76.2mm | P | Boron | (100) | 5-10 | 380μm | SSP | 100nm Dry Oxide |
| 100mm | P | Boron | (111) | <0.005 | 500μm | SSP | 50nm Dry Oxide |
| 150mm | P | Boron | (100) | 0-100 | 650μm | SSP | 300nm Wet Oxide |
| 200nm | P | Boron | (100) | >1 | 750μm | DSP | 100nm Wet Oxide |
| 300nm | P | Boron | (100) | 1-10 | 850μm | DSP | 300nm Wet Oxide |
Thermal Oxide Deposition Silicon Explained
Silicon dioxide or silicon dioxide is one of the most common substances in semiconductor manufacturing. Silicon dioxide is often used as a mask layer for integrated circuits (IC) and as an oxide layer in semiconductors. Selective etching of oxide films is required to use silicon dioxide in integrated circuits, IC and MEMS manufacturing, and in the manufacture of electronic components. [Sources: 1, 2, 3]

The advantage of this technique is that the silicon oxide is deposited at a temperature of T2, which is compatible with a wide range of applications. The thermal oxide films are produced by a combination of the precursors described above and by the addition of a layer of silicon dioxide. In order to form a thick thermal oxide film with a thickness of 2500 nm or more, it is possible to prevent the occurrence of slipping and contortion and to carry out a satisfactory formation of thermal oxide films. Even if the temperature (T1) is higher than the temperature, slips and contortions are difficult and cracks can be prevented by forming a thin layer as it was formed in the previous stages. [Sources: 4, 5]

Thermal oxide films can be formed on silicon single crystal wafers, but only if the temperature of the heat treatment furnace is lower than 1200 Adeg (c), where the thermal oxide film forms at T1, it is not possible to sufficiently suppress the occurrence of slips and contortions during the formation of thermal oxide films. If the temperature of the heat treatments in the furnace is lower than 1200ADeg (c) the thermal oxide film forms in a thin layer. [Sources: 4]

On the other hand, wet oxidation of a steam mole diffusing into the oxidant will result in only one mole of silicon dioxide. The atmosphere oxidizes faster during the formation of thermal oxide films than in the atmosphere in which the oxide films are formed. If the thermal oxidation film has a temperature of 1200 A degrees (c) or more at T2 (or D2 in the preceding stage) and the oxidation rate is high due to the higher temperature, it is possible to efficiently and additionally form a thicker thermal oxide film, but only if the temperature at T2 is set at a temperature of 1200 Adeg (C) and more, making it more likely that the thick thermal oxide film will form in this subsequent stage. [Sources: 0, 4]

According to the present invention, the degradation problem is solved by depositing the silicon dioxide layer on a silicon nitride film. As described above, at a temperature of 1200 Adeg (C), thermal oxide films can be formed which allow the wafer to prevent adhesion to the boat by forming a thick thermal oxide film, and additionally, they can be formed continuously during the heat treatment of a furnace. In addition, in the next stage, at the temperature of T2 (or D2) and more than 1200 A degrees (c) or more, a thermal oxidation film may form, making them more likely to form a thicker thermal oxidation film than the previous stage as described below. [Sources: 2, 4]

In addition, a 5000 nm thick thermal oxide film forms which oxidizes at a temperature of 1200 Adeg (C) or more than 1200 A degrees (c). In addition, the thermal oxidation film is formed, which is 5000nm thick and can adjust to oxidation times of at least 1000 A degrees (c) and more. [Sources: 4]

By observing the dislocation of the slides by X-ray topography, a thermal oxide film is created with a thickness of 2500 nm. A thermal oxide film with a thickness of 6000 Nm form by observing slip contortions, observed by X-ray topology, and form at a temperature of 1200 Adeg (C) or more than 1200 A degrees (c) and more. Thermo-oxide films with the thickest thickness 3000 Nm and 5000 Nm are formed by observations of sliding contortions, observe the topographic method X - Ray and form at an oxidation time of at least 1000 A degrees (c). Thermal oxide foils with a thickness of 2500 Nm and a thermal oxidation film, which is thickened to 5000 Nm-shape A thermal oxide film has been formed by observing slides using X-ray methods. [Sources: 4]

The thermal oxidation films formed in Examples 1 and 2 are shown in Table 1, while the thermal oxidation films with a thickness of 2500 Nm and a thermal oxidation time of at least 1000 A degrees (c) and more are shown in Table 2. The thermal oxide films which are formed in Examples 2 and 3 and in Examples 4 and 5 are shown in Table 4. A thermal oxide film formed as a thermal oxidation film with an oxidation temperature of 1200 Adeg (C) or more is shown and in contrast Examples 5 and 6, with the same oxidation time and temperature as shown in Table 4, are disillusioned in Table 5. Comparable Examples 3 and 4 of the thermal oxide layer created by a thermal oxide layer with a thermal oxygen time of 1000 - 1200 A degrees (c) are shown in Table 3. [Sources: 4]

Sources:

[0]: https://nptel.ac.in/content/storage2/courses/103106075/Courses/Lecture29.html

[1]: https://www.hindawi.com/journals/tswj/2014/106029/

[2]: https://patents.google.com/patent/US4254161A/en

[3]: http://www.enigmatic-consulting.com/semiconductor_processing/CVD_Fundamentals/films/SiO2_properties.html

[4]: https://www.google.com/patents/US20130178071

[5]: https://www.scielo.br/scielo.php?script=sci_arttext&pid=S0103-97332001000200023