Thermal Oxide Deposition
We have access to the best equipment for both Wet and Dry Thermal Oxide Deposition on Silicon Wafers.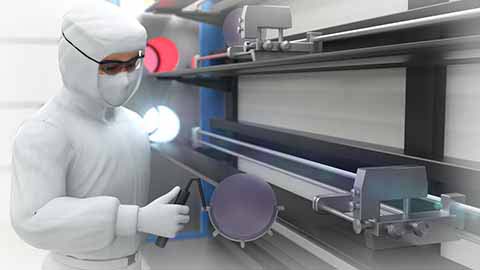 Below are just a small sample of the specs that you'll find online. We have both wet and dry and can deposit on one or both sides of the wafer. You can buy as few as one wafer!
We can also deposit oxide on the following tough to find spec:
100mm N/Ph (100) 0.001-0.005 ohm-cm 500um SSP or DSP Oxide Thickness is up to you!
| Dia | Type | Dopant | Ori | Res ohm-cm | Thk | Pol | Oxide Thk |
| --- | --- | --- | --- | --- | --- | --- | --- |
| 50.8mm | P | Boron | (100) | 1-10 | 280μm | SSP | 285nm Wet Oxide |
| 100mm | P | Boron | (100) | 1-10 | 500μm | SSP | 300nm Wet Oxide |
| 100mm | N | Phos | (100) | 1-10 | 500μm | SSP | 300nm Wet Oxide |
| 100mm | P | Boron | (100) | 1-10 | 500μm | SSP | 100nm Wet Oxide |
| 100mm | P | Boron | (100) | 1-10 | 500μm | SSP | 10,000nm (10μm) Wet Oxide |
| 76.2mm | P | Boron | (100) | 5-10 | 380μm | SSP | 100nm Dry Oxide |
| 100mm | P | Boron | (111) | <0.005 | 500μm | SSP | 50nm Dry Oxide |
| 150mm | P | Boron | (100) | 0-100 | 650μm | SSP | 300nm Wet Oxide |
| 200nm | P | Boron | (100) | >1 | 750μm | DSP | 100nm Wet Oxide |
| 300nm | P | Boron | (100) | 1-10 | 850μm | DSP | 300nm Wet Oxide |