UniversityWafer, Inc Leading Silicon Wafer Supplier
Scientists find it hard to find a good silicon wafer supplier who can provide you with the high quality wafers you need in small quantities at a low price that you want.
Not only is it hard to find a good silicon wafer supplier, but it can also be expensive and time consuming. You have to contact multiple suppliers, compare prices, and wait for your order to arrive.
University Wafer is the perfect solution for your silicon wafer needs. We offer high quality wafers in small quantities at a low price. Plus, we ship orders within 24 hours so you can get back to work quickly.
Compare Our Silicon Wafer Quote with The Competition & We'll Beat it!
Watch the video below on how to use a materials self-quoting system to either make a quote to present to purchasing or just to purchase wafers!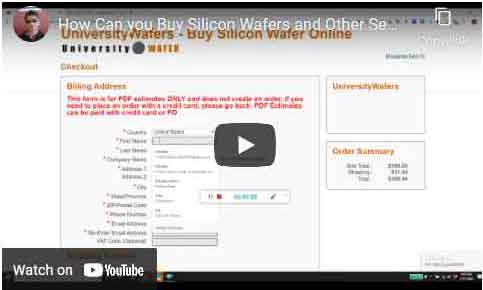 Enter your specs and quantity for an immediate quote!
Buy Wafers Online & Save!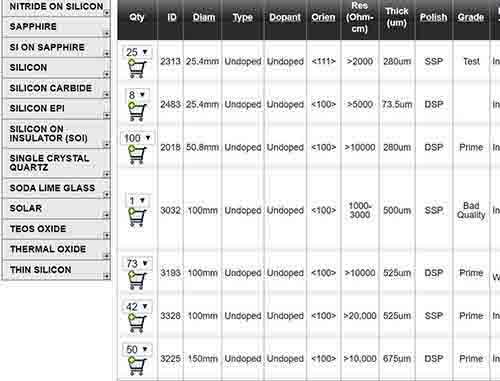 Which Companies Sell Silicon Wafers
The slowdown in the semiconductor silicon wafer market followed two years of strong growth, and wafer companies are now trying to maintain contract prices in the face of downward pressure from chip manufacturers. The silicone wafer market has had a bumpy start to the year, with sales of the major silicon wafer manufacturers falling as expected after a sharp downturn. [Sources: 12]

Silicon wafer suppliers have said the average selling price will remain at or below $300 per mm, allowing investment in a 300mm expansion. Indeed, some firms have said that demand will ease from next year and could remain tight until 2021. [Sources: 2]

According to a recent survey, the US - which has hit a new all-time high of $300 per millimetre for the first time in its history - has reached a new high of $xx. [Sources: 5]

Currently, the largest wafers in China are dominated by 200 mm, but with the expansion of some production lines in China, silicon wafer production is expected to exceed 300 mm by 2021. More than half of these 200 mm blocks are expected to be installed in 2021 and 300 mm in 2020. The 300mm silicon wafer has an annual growth trend that will be 43.3% in 2019. [Sources: 5]

Meanwhile, the silicon wafer market continues to be dominated by two major segments: HPQ and advanced materials. HPq focuses more on the semiconductor industry than on other areas such as energy efficiency and renewable energies. [Sources: 4, 10]

SK Siltron has subsidiaries and offices overseas to sell silicon wafers and it has a subsidiary in China. SK Silkron, which sells silicone wafers, has international subsidiaries in Japan, South Korea, China, Taiwan, Australia, New Zealand and the USA. [Sources: 11]

This chart shows ETSU's sales of silicon wafers in the United States, Japan, South Korea, China, Taiwan, Australia, New Zealand and Australia. [Sources: 12]

When demand began to outstrip supply, wafer manufacturers were forced to invest to meet immediate silicon demand, rather than spending to cover long-term contract volumes in 2019 and 2020. In the context of the 2008 financial crisis, demand for silicon wafers in the US, Japan, South Korea, China, Australia and Australia has been falling. Wafer companies continued to be reluctant to expand silicon production facilities without securing additional silicon capacity funding, which led to wafer inventories falling short of chip manufacturers "expectations. After suffering from oversupply and falling prices, many silicone wafer suppliers experienced a shortage of supply and began to raise prices. [Sources: 2, 12]

Ito: "During the solar boom of 2008, there was a significant shortage of raw materials for wafers, which drove the semiconductor industry's demand for high-quality fresh wafers. Improvements in the recycling process of silicon wafers have reduced the demand for test wafers for semiconductor manufacturing. According to SEMI, revenue from material deliveries has increased by 14 percent compared to the previous year, and revenue per material transport by 12 percent. [Sources: 9]

Opening the market to fabulous semiconductor industries enables TSMC to manufacture essential components at a lower cost than its competitors such as Samsung and LG Electronics. [Sources: 6]

Over the last 20 years, the semiconductor industry has been highly concentrated, with the five largest global manufacturers monopolizing more than 93% of the market share. TSMC started with a 14 nm wafer, beating off competitors such as Taiwan Semiconductor Manufacturing Company (TMC) and Samsung Electronics, which still manufacture 14 nm wafers. The silicon wafer industry has consolidated over the last 20 years from more than 20 suppliers in 1990 to only the five largest players today. By 2018, their share of global silicon wafer sales will exceed 50% and will reach 63.8% by 2018. [Sources: 2, 5, 6]

In addition, NAND accounts for more than 60% of the global market share in silicon wafer manufacturing. That is why we can currently produce silicon polished wafers at a cost of less than $10,000 for a silicon polishing wafer and $1,500 per silicon polish for its silicon. In addition, HPQ has negotiated an amended agreement with Apollon Solar that extends the scope of our 2017 collaboration to include the ability to evaluate porous silicon waves to combine solid state Li-ion batteries with our patented silicon production process for our PUREVAPTM and QRR. With this agreement, MACOM expects to gain access to increased demand for GaN silicon, an improved cost structure that could displace established silicon and LDMOS manufacturers and accelerate the adoption of GaN silicon in the mainstream market. The next phase of increasing production capacity for silicone wafers will be carried out along the entire industrial chain of silicon wafers. [Sources: 3, 4, 5, 8]

This can be used to make smaller silicon substrates by breaking down the wafers into smaller pieces. It costs about $125 per unit, which is less than half the cost of a silicon polishing wafer and about 50% less per silicon polish for its silicon. [Sources: 0, 7]

Additional elements can be added to the molten silicon to control the electrical properties of silicon wafers. AstroWatt also states that 25% of the silicon wafer thickness can be achieved with the same power as a 1000 watt solar power plant. [Sources: 0, 1]

Sources:

[1]: https://www.greentechmedia.com/articles/read/sigen-targets-thin-silicon-wafers-with-ion-implant-technology-for-solar-pv

[3]: https://epsnews.com/2018/02/07/macom-stmicro-partner-gan-silicon-wafers/

[4]: https://www.globenewswire.com/news-release/2019/12/09/1957854/0/en/HPQ-Outlines-Key-Milestones-Driving-the-Company-Towards-Supplying-Silicon-Silicon-Powders-and-Silicon-Wafers-for-Lithium-Ion-Battery-Market-in-2020.html

[5]:https://www.benzinga.com/pressreleases/20/04/ab15799021/semiconductor-large-silicon-wafer-2020-global-industry-size-share-trends-key-players-analysis-app

[6]: https://restofworld.org/2020/taiwan-chipmaker-guide-to-tsmc/

[8]: https://solarfeeds.com/wafer-manufacturers-in-china/

[9]: https://www.footwashermedia.com/newtechpress/tag/silicon+wafer

[10]: https://www.pv-magazine.com/2018/02/24/the-weekend-read-from-the-top/

[11]: https://www.ourmidland.com/news/article/SK-Siltron-completes-450-million-15105491.php

[12]: https://blog.semi.org/business-markets/tough-times-for-silicon-wafer-market-continue-after-two-consecutive-quarters-of-revenue-decline

What is a Silicon Wafer Supplier?
It's tough finding the right supplier for your substrates needs. What you need in your supplier is empathy with your budget constraints. UniversityWafer, Inc. provides our clients with a boutique service that caters to their needs.
From providing hard to find wafers to selling as few as one wafer to test. We have the personal touch craved in this era of every increasing automated customer service.
If you want to talk to a real person. Call us! You can of course also fill out the form or email us with your specs.
How to Choose a Silicon Wafer Manufacturer
Electronic devices have changed the way we are living as they have aided in maximizing our capabilities as humans. Computers are becoming better every day, smartphones are changing the dynamics of information flow or cash transfer with the improvement of the existing systems. Transport has also been boosted as automotive electronic devices have been introduced that make cars study their surroundings and respond appropriately. This has facilitated the development of self-driving cars, electric vehicles, and drones. The medical industry, military, or manufacturing industry among other various fields have also benefited from the use of silicon wafer to make various devices.
Figure 1: An illustration of the silicon wafer production process.   (al., 2012)
Wire Sawing
Edge Profiling
Lapping or Grinding
Etching
Polishing
Laser Inspection
Cleaning
Packaging
Given applications of electronic devices require wafers that meet a specific application. The wafer size, the dopant used to make the wafer, the orientation of the wafer elements, or the die count are some of the properties that a customer has to keenly consider as he or she decides to buy silicon wafers. The surface area of a wafer determines the number of integrated circuits that can be fabricated from a wafer (Insights, 2020). On the other hand, the cost of making the wafers does increase with the increasing surface area though the cost increase is not proportional to the surface area. The current maximum wafer diameter is at three hundred millimeters. Different wafer suppliers have different capacities so one should inquire if the desired specifications can be achieved.
Wafers are circular in physical appearance with maximum diameters of three hundred millimeters and minimum diameters of twenty-five millimeters. Apart from the stated diameters, wafer diameters of 25.4mm, 50.8 mm, 100mm, 125mm, 150mm, 300mm, 200mm, or 76mm also do exist. Wafer diameters of 300mm as particularly suitable for use in data centers, contact image sensors, or advanced logic devices. Those with diameters less than or equal to 200mm are suitable in the Internet of things applications or automotive fields. Although the diameters of the wafers are measured in terms of millimeters, the common reference of the diameter is based on the nearest inch. Fabrication plants are described by the wafer diameter they make such as a six-inch plant. Concerning the thickness of a wafer, a wafer has to support its weight without failure, particularly during handling. Large wafers have to be thicker than small wafers.
The number of dies that can be obtained from a wafer needs to be more to reduce the cost of making many wafers. Since the dies have to have straight edges, the wafers that are formed at the edges of the wafer are usually incomplete. The nature in which the atoms of silicon are aligned has to be considered as it does affect the structural and electronic characteristics of a device. By considering the orientation of silicon crystal, the path of the transporting ions can be determined. Besides, it becomes easy to do dicing to the wafers as the process is done along the discontinuity planes. Some wafer suppliers may be ready to supply the orientation information of the silicon wafers procured thus if this is a requirement, such suppliers may be suitable choices.
To control the electrical properties of silicon wafer-based devices, dopants are included thus acting as impurities. Dopants may be classified as n-type (i.e. Antimony, Arsenic, or Phosphorus) or p-type (i.e. Gallium or Boron). The effects of doping are an increase in the concentration of ion carriers that do improve the electrical conductivity of a wafer. The concentration of a wafer is shown where the negative subscript indicates a lightly doped wafer. On the other hand, a positive subscript implies a highly doped wafer. The concentrations for doping range from 1013 to 1016 atoms of the dopant per cubic centimeter. Not all silicon suppliers have the capability of incorporating all of the mentioned dopants thus one should select those that use the desired dopants.
The silicon ingot growth method is another parameter when one may use to select a wafer supplier. Two methods may be used to obtain the wafers i.e. the Czochralski zone process or the float zone process. Each method has its advantages and limitations such as the low production cost and good thermal stress being favorable properties when wafers are obtained using the Czochralski process. However, this method does not produce high-quality wafers as the float zone wafer does. Different silicon wafer suppliers may have invested in a specific method hence it is wise to inquire about the method to be used to fabricate the silicon wafer.
Fabrication of Silicon Wafer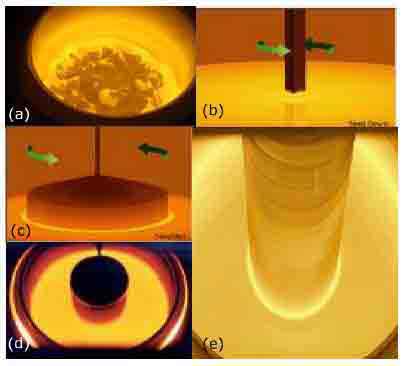 Figure 2: Stages of the Czochralski crystal growth process. (a) meltdown, (b) seed dip, (c) top side, (d) shoulder side and (e) The body. (al., 2012)
After a silicon wafer has been obtained, a grading process can be done to distinguish the high-quality wafer from low-quality ones. This is because different wafer qualities retail at different prices in the market. The highest quality is known as the prime wafer as it polished, high cleanliness standards and it maintains the close flatness tolerances. The second group is known as the test wafer. It closely matches the prime quality only that it does not attain the close tolerances or cleanliness standard as the prime quality. The lowest quality wafer is known as the reclaimed wafer. Such wafers are obtained after polishing wafers that had been patterned initially. One has to consider which quality the wafer supplier provides to access if it is suitable in the intended application.

Figure 3: Wafer slicing operation. (a) loading the ingot to the slicing machine. (b) Raising the sliced ingot. (c) sliced ingot.   (al., 2012)
The flow of current through an electrical conductor is also a key indicator one has to consider when determining which wafer supplier, one should select. As current moves through silicon material, it may experience resistance. The resistance level can be adjusted to the desired levels by increasing or decreasing the doping levels. The final step of wafer production entails polishing the wafer to obtain a flat and smooth mirror-like surface. Polishing of the wafer may either be done on one side while the other surface is etched (single side polish) or polishing both surfaces of the wafers (double side polish).
One such supplier who will meet these selection requirements is UniversityWafer Inc. The supplier does offer high-quality wafers as per the customers' specifications. This is possible since the company has invested in modern equipment that simplifies silicon wafer fabrication. Besides, the company offers wafers of varying diameters from two inches to twelve inches.
Silicon Crystal Growth References
al., F. e. (2012). Silicon Crystal Growth and Wafer Technologies. Proceedings of the IEEE, 1454-1476.
Insights, I. (2020). Global Wafer Capacity 2020-2024—Detailed Analysis and Forecast of the IC Industry's Wafer Fab Capacity. Scottsdale: IC Insights.