Get Your GaN-on-Si Quote FAST!
Standard GaN-on-Si Standard Epi-Wafer Characteristics
GaN-on-Si FEATURES
High uniformity
Low leakage current
Higher operating temperatures
Excellent 2DEG characteristic
High breakdown voltage (600V-1200V)*
Lower ON-resistance*
Higher switching frequencies*
Higher operating frequencies (upto 18GHz)**
Typical Application
*Power HEMT
*RF HEMT
*GaN Diode
| | |
| --- | --- |
| GaN Materials Specs |  Dia 150mm |
| Wafer Warp (um) | <50 |
| AFM RM  (nm) | <0.5 |
| (002) FWHM (arcsec) | <600 |
| (102) FWHM (arcsec) | <1200 |
| Hall Sheet Resistiance (w-2) | <500 |
| Hall Sheet Carrier Density, N8 (Cm2) | >1E+13 |
| Hall Mobility, u (cm2/V-s) | >1500 |
Typical GaN-on-Si Wafer
Could you give me more information on Blue/Green LED on Si?
Blue LED on Silicon wafer epi structure, Green LED epi structure are similar as it.
The surface morphology or layer quality are epitaxial growth finished for process LED chip as industrial standard.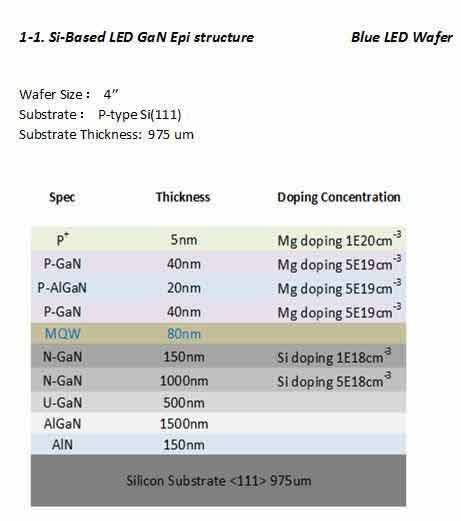 150mm DesiGaN Power/RF HEMT Series
We have a large selection Gallium Nitride on Silicon wafers available diameters 100mm-200mm. Small quantities acccepted.
IGSS GaN 150mm DesiGaN Power/RF HEMT Series of Gallium Nitride on Silicon (GaN-on-Si) is an AlGaN/GaN hetero-epitaxial layer structure grown on a Silicon(111) substrate targeting high voltage Power & RF applications.
Standard GaN-on-Si Standard Epi-Wafer Characteristics
GaN-on-Si FEATURES
High uniformity
Low leakage current
Higher operating temperatures
Excellent 2DEG characteristic
High breakdown voltage (600V-1200V)*
Lower ON-resistance*
Higher switching frequencies*
Higher operating frequencies (upto 18GHz)**
Typical Application
*Power HEMT
*RF HEMT
*GaN Diode
AlGaN (24-28% Al / typ. 10-20nm)
GaN Channel (Typical 100-200nm)


Typical GaN-on-Silicon Wafer Warp (Total Wafer Warp = 23.3 µm [Max. local warp = 15.2µm; Min. local warp = -8.1µm] )

Typical GaN-on-Silicon Sheet Resistance (Rsh = 437.9 W-2)

Typical GaN-on-Silicon Roughness (AFM RMS ~0.25nm (5x5um2)