Silicon Carbide (SiC) Substrate and Epitaxy
Buy Online and SAVE! See bottom of page for some of our SiC inventory.
SiC substate (epi ready), N type and Semi-insulating,polytype 4H and 6H in different quality grades, Micropipe Density (MPD):Free, <5/cm2, <10/cm2, <30/cm2,<100/cm2
SiC Epitaxy:Wafer to wafer thickness uniformity: 2% ,Wafer to wafer doping uniformity: 4%.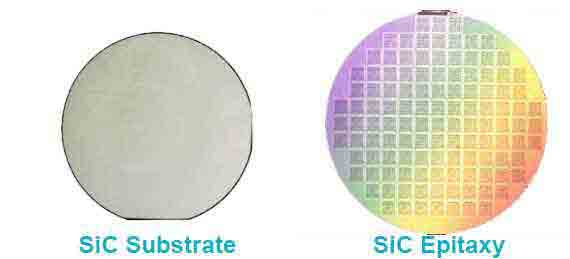 Current Inventory Includes, but not limited to the following. We also have < 25.4mm, 25.4mm, 76.mm, 100mm available.
<6H-N
<50.8mm N/Nitrogen <0001>+/0.5 deg 330um 0.02 ~ 0.2 Ω·cmSSP Epi Ready Roughness <0.5nm
<4H-N
<50.8mm N/Nitrogen <0001>+/-0.5 deg 330um 0.01-0.1 Ω·cm SSP Epi Ready< Roughness : <0.5 nm
Please provide us with your specs or ask to see our inventory! Below are just some of the SiC wafers that we have in stock.
2" Silicon Carbide (SiC) 6H N-Type Epi-Ready

2" dia, 6H-N
Type/ Dopant : N / Nitrogen
Orientation : <0001>+/-0.5 degree
Thickness : 330 ± 25 um
D Grade,MPDä100 cm-2 D Grade,RT:0.02-0.2 Ω·cm
Single face polished/Si face epi-ready with Chemical Mechanical Polish (CMP),Surface Roughness : <0.5 nm
2" 6H N-Type
6H-N 2" dia, Type/ Dopant : N / Nitrogen
Orientation : <0001>+/-0.5 degree
Thickness : 330 ± 25 um
B Grade,MPDä30 cm-2 B Grade,RT 0.02 ~ 0.2 Ω·cm
Single face polished/Si face epi-ready with CMP,Surface Roughness : <0.5 nm 
2" Silicon Carbide (SiC) 4H N-Type Epi-Ready
2" 4H N-Type
4H-N 2" dia, Type/ Dopant : N / Nitrogen
Orientation : <0001>+/-0.5 degree
Thickness : 330 ± 25 um
D Grade,MPDä100 cm-2 D Grade:RT:0.01-0.1 Ω·cm D Grade,Bow/Warp/TTV<25um
Single face polished/Si face epi-ready with CMP,Surface Roughness : <0.5 nm
2" Silicon Carbide (SiC) 4H N-Type N-type Nitrogen Doped
4H-N 2" dia, Type/ Dopant : N / Nitrogen
Orientation : <0001>+/-0.5 degree
Thickness : 330 ± 25 um
B Grade,MPDä30 cm-2 B Grade:RT:0.01 - 0.1 Ω·cm B Grade,Bow/Warp/TTV<25um
Single face polished/Si face epi-ready with CMP,Surface Roughness : <0.5 nm 
3" Silicon Carbide (SiC) 4H N-Type
4H-N 3" dia, Type/ Dopant : N / Nitrogen
Orientation :4 degree+/-0.5 degree 
Thickness : 350 ± 25 um
D Grade,MPDä100 cm-2 D Grade,RT:0.01-0.1Ω·cm D Grade,Bow/Warp/TTV<35um
Double face polished/Si face epi-ready with CMP,Surface Roughness : <0.5 nm 
3" 4H N-Type
4H-N 3" dia, Type/ Dopant : N / Nitrogen
Orientation : 4 degree+/-0.5 degree 
Thickness : 350 ± 25 um
B Grade,MPDä30 cm-2 B Grade,RT:0.01 - 0.1Ω·cm B Grade,Bow/Warp/TTV<35um
Double face polished/Si face epi-ready with CMP,Surface Roughness : <0.5 nm
3" 4H SI
4H-SI 3" dia, Type/ Dopant : Semi-insulating / V
Orientation : <0001>+/-0.5 degree
Thickness : 350 ± 25 um
D Grade,MPDä100 cm-2 D Grade,RT:70 % ≥1E5 Ω·cm
Double face polished/Si face epi-ready with CMP,Surface Roughness : <0.5 nm
3" 4H SI
4H-SI 3" dia, Type/ Dopant : Semi-insulating / V
Orientation : <0001>+/-0.5 degree
Thickness : 350 ± 25 um
B Grade,MPDä30 cm-2 B Grade,RT:80 % ≥1E5 Ω·cm
Double face polished/Si face epi-ready with CMP,Surface Roughness : <0.5 nm 
2" Semi Insulation Silicon Carbide 6H
2" 6H SI
6H-SI 2" dia, Type/ Dopant : Semi-insulating / V
Orientation : <0001>+/-0.5 degree
Thickness : 330 ± 25 um
D Grade,MPDä100 cm-2 D Grade,RT:70 % ≥1E5 Ω·cm
Single face polished/Si face epi-ready with CMP,Surface Roughness : <0.5 nm
2" 6H SI
6H-SI 2" dia, Type/ Dopant : Semi-insulating / V
Orientation : <0001>+/-0.5 degree
Thickness : 330 ± 25 um
B Grade,MPDä30 cm-2 B Grade,RT:85 % ≥1E5 Ω·cm
Single face polished/Si face epi-ready with CMP,Surface Roughness : <0.5 nm 
4" N-type Silicon Carbide (SiC) 4H
4" 4H N-Type
4H-N 4"dia.(100mm±0.38mm),
Type/ Dopant : N / Nitrogen
Orientation : 4.0°±0.5°
Thickness : 350μm±25μm
D Grade,MPDä100 cm-2 D Grade,0.01~0.1Ω•cm D Grade,TTV/Bow /Warp<45um