What is a Material Safety Data Sheet?
An MSDS (Material Safety Data Sheet) lists information about a product that could affect human health or safety. It includes information about possible interactions between a product and humans. It is essential for people to read these sheets before they use a product or use it in a work environment. This document is also referred to as a safety data sheet or a SDS. Aside from containing information about a particular product's safety, an SDS also tells you how to properly store and dispose of it.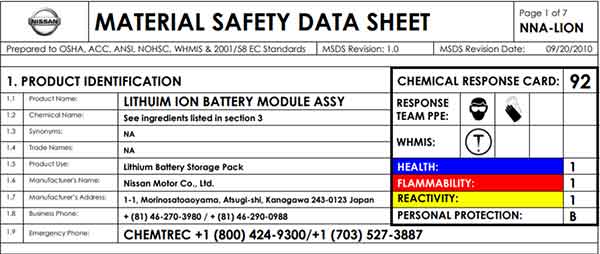 An MSDS is a document that provides specific information about a chemical. It is required for all facilities to store and make it available to employees. Unlike SDSs, which usually follow a standard 16-section format, MSDSs are available in different formats. Both aimed to convey the same information regarding a chemical's hazards and its effects on humans. The GHS regulations have made it easier to find common hazard safety information for a given chemical.
An MSDS is a document that comes along with a hazardous chemical. It provides information on proper handling, storage, and disposal of the chemical. The SDS is standardized and requires carefully defined risk and safety phrases. It can be several pages long. In contrast, the MSDS had no standard format and wording. It varied widely in length, quality, and consistency. It can be anywhere from one page to 10 pages, while SDSs tend to be between two and four pages.
An MSDS also provides important information about a chemical's hazard and risks to humans. It also provides emergency response personnel with the necessary details to handle the chemical and prevent accidents. The MSDS explains how to use the chemical and how to handle it in an emergency. The MSDS should be able to assist in an emergency situation if a person is exposed to the chemical or is exposed to it for an extended period.
An MSDS can contain up to 16 sections and must include the product's ingredients and its hazards. Its purpose is to inform workers of the chemical's hazards. It also provides information about the risks and benefits of the chemical. Its content should be accurate, understandable, and easy to read. Its purpose is to help people understand the chemicals and the risks associated with them. So, a good MSDS will have all of these sections and be a great asset to employers.
MSDSs are very important. They contain information about the chemical's hazards and how to safely work with it. If you have MSDSs on hand, you can access them online and store them securely. The SDS will be stored in your company's secure cloud storage and can be accessed by all employees in your company. The system is also compatible with other types of documents, including PDFs and downloadable files. The software will also keep all MSDSs in sync with each other.
The SDS must contain all of the information required by law. All of the required information should appear under Column III of Schedule I of the Controlled Products Regulations. A Safety Data Sheet should also list all of the chemicals that are being used in the workplace. They should be labeled accordingly and be available on the Internet. If a product is labeled with a warning, it must include this information. The SDS is also used in the event of an emergency.
In 2012, the OSHA revised the Hazard Communication Standard. It now follows the Globally Harmonized System, a system that helps companies determine the hazards of chemicals. The new standards have made MSDSs more consistent and easy to understand. It is easier to find information in a Safety Data Sheet than in a MSDS. The format of a MSDS is not regulated by OSHA, but it is recognized by the European Union.
In Canada, a MSDS (or Safety Data Sheet) must be available in the workplace. Its purpose is to inform employees about the hazards of a product, and to avoid exposure to it. It should also be available in the language of the country of use. There are many ways to access MSDSs, so make sure you choose one that works for your workplace. A good way to do this is to put them in a binder in a central location. This will allow employees to find them easily.
Why Is Material Safety Data Sheet Important?
If you're wondering why material safety data sheets are important, you're not alone. This article will provide you with the basics and a solid foundation for developing your own safety program. Not only will SDSs help your business meet OSHA regulations, but they can also save you time and money. You can also find these documents on the internet for easy access and download. Here are some tips for obtaining them.
SDSs are a starting point for developing a safety program
Safety data sheets (SDSs) are documents that contain information about a chemical's potential risks, and are required by law for any manufacturer or importer. SDSs are essential for a safety program because they provide more information than a label, and are useful tools for preventing and managing hazardous situations. By providing this data, businesses can improve their safety program and ensure that employees and customers are safe.
SDSs also contain information on exposure limits, control methods, personal protective equipment, and environmental effects. The SDS also contains information on the product's physical and chemical properties, such as evaporation rate, vapor pressure, and other characteristics that may be helpful to workers, consumers, and regulatory agencies. SDSs must also include information on its stability, reactivity, and decomposition products.
They are compliant with OSHA regulations
As part of OSHA regulations, employers must provide material safety data sheets (MSDS) for all hazardous chemicals they use in their workplaces. These documents may be in different forms, such as operating procedures, or they may be designed to cover a particular chemical group or process hazard. Employers must provide all required information for each chemical in their workplace and make it readily available to workers during each work shift.
The SDS must be updated to reflect changes in the workplace. It must be updated to reflect new regulations, such as the California Hazard Communication Regulation guide. It must also be updated and contain current information on the product's physical, chemical, and biological properties. SDS binders and centers are a great way to keep up with the ever-changing regulations and ensure compliance. They also provide important information for the safety of your workplace.
They save time
While the creation of an MSDS can take some time, the benefits are numerous. Time savings can translate into money saved, and companies can use their resources more efficiently in other areas. Similarly, if the MSDS is created by a software program, workers will be able to access the same information on a mass scale. This means that fewer resources are required to compile and publish these documents, saving both time and money.
The materials safety data sheets are essential, and should be accessible to all employees and locations where the chemicals are stored. Obtaining these documents is a time-consuming process, requiring the health and safety team to contact the manufacturers annually. It can be difficult to make sense of the overwhelming information. It is important to keep all copies for at least ten years, as they may be required during an inspection.
They are easy to obtain
To comply with the laws, all professional users of a chemical product must be provided with a copy of a Material Safety Data Sheet. Whether these documents are digital or printed, suppliers must provide them on the day of delivery. Physical safety data sheets can be stored in a binder in the room of use, and digital data sheets are usually stored in a chemical management system. Chemical management systems allow you to manage all of your chemicals and ensure compliance with regulations. You can also limit work environment risks by keeping accurate and updated safety data sheets.
If you're not sure how to get an MSDS, here are some methods that make it easier to find them. The first method is to download an app. MSDS Online offers software solutions that make it easier for companies to manage their safety compliance programs. MSDSOnline is a software solution from VelocityEHS that makes it easy to manage chemicals and safety data sheets. Customers appreciate the fact that MSDSOnline is HazMat-compliant and makes managing safety data sheets easy. Another solution for safety data sheets is an Android app called AkzoNobel MSDS/TDS Library. The app lets you search safety data sheets by product name or by barcode. The app is free to download, and you can keep it for any amount of time.