Flexible Organic Transistor
Currently, there are several types of flexible organic transistors on the market. These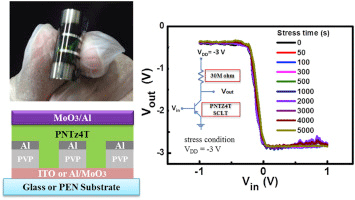 include a variety of structures and applications. Some of them are printed on to a flexible substrate and are therefore very low-cost. They can also be applied to biomimicry applications, which are applications based on biological structures.
Structure
Unlike inorganic semiconductors, organic transistors are flexible and are capable of forming conductive channels. They are lightweight, low cost, and have mechanical flexibility. They are a promising candidate for biomedical electronic applications, as well as wearable technology.
An analytical model was developed at the University of Massachusetts Amherst to predict the effect of mechanical deformations on transistor performance. It is based on the theory of plate bending. The model is able to calculate the local strains imposed on the transistor structure by wrinkle deformations.
A comparison of the electrical properties of devices exhibited by a number of experimental techniques showed that they were consistent. This led the researchers to conclude that the electrical properties of organic transistors are stable in ambient air.
Several additives have been employed in the fabrication of organic transistors. For example, parylene passivation layers can enhance the lifetime of the device. They also can prevent mechanical damage during testing. In addition, they can suppress the strain induced by the transistors.
Benzyl mercaptan was also used to minimize contact resistance in p-channel TFTs. A multilayer stack can also be made stretchable. In addition, a chemisorbed monolayer was used to reduce contact resistance. This resulted in a p-channel DPh-DNTT TFT with a gate-to-contact overlap of 400 nm and a corresponding on/off current ratio of 3 x 108.
A p-channel DPh-DNTT device has a gate-source voltage range of 0 to +-1 V. It has a subthreshold swing of 70 mV/decade. Its maximum transition frequency is 2.8 MHz. The device is also able to generate a current density that is more than a hundred times that of an OLED.
In addition, flexible organic thin-film transistors can be fabricated and printed on flexible substrates. This is especially useful for biomedical sterilization processes.
Operation
During the past few decades, the design of organic field-effect transistors (OFETs) has evolved greatly. Moreover, the mobility of organic semiconductors has increased. These two factors greatly improve the potential of flexible organic electronics. These devices are useful for a wide range of flexible electronics applications.
These devices exhibit good electrical performance and electromechanical stability. These transistors can be applied in various areas, including wearable devices and sensor arrays. Moreover, they are useful in bioelectronics. In particular, flexible organic transistors can be used in noninvasive biosensors. In addition, they can be integrated into wearable devices for cancer treatments. These devices can also be used in neural networks.
In this study, we have explored the possibility of fabricating organic thin-film transistors (OTFTs) on flexible plastic substrates. The channel lengths are as small as 380 nm. The TFTs are made up of two organic materials: benzyl mercaptan and polyethylene naphthalate (PEN). Benzyl mercaptan minimizes contact resistance in n-channel TFTs.
In addition, PEN is used as the substrate. The PEN substrate is 125 um thick. It has a flexible polymer structure. It is able to maintain the desirable characteristics even when the device is bent.
In this study, 16 nominally identical p-channel organic TFTs were fabricated. In addition, static transfer characteristics and dynamic characteristics of the devices were measured. The static characteristics were recorded using an Agilent 4156C Semiconductor Parameter Analyzer and the dynamic characteristics were measured using a GGB Industries Model 19C Picoprobe. The signal propagation delay was measured at a supply voltage of 3 V. In addition, all electrical measurements were carried out in ambient air at room temperature.
The effective field-effect mobility of the transistors was 1.2 cm2 V-1 s-1. The standard deviation of the transconductance was 6%.
Applications
Currently, many materials scientists are exploring the electrical properties of bending thin film devices. This type of technology may be used to make flexible electronics, such as organic thin-film transistors (TFTs).
Flexible organic TFTs are fabricated with direct-write electron-beam lithography. Unlike conventional inorganic transistors, they are less expensive to manufacture and have greater flexibility. They also have the potential to be used in wearable and biocompatible electronics applications.
Flexible organic transistor applications are possible in non-invasive biosensors, robotic sensors, and flexible displays. They can also be used to improve non-invasive medical sensors and cancer treatments.
The most common material used for organic transistors is polymers. Polymers have excellent flexibility and compatibility. They are also easy to process. This makes them ideal for flexible electronics applications.
One of the most promising applications of organic transistors is in flexible displays. These devices can be used to replace silicon-on-glass arrays. This type of display is highly flexible, durable, and can be used to monitor the health of patients. It is also virtually unbreakable.
Traditionally, organic transistors were made by laying down a polymer polythiophene film on a silicon wafer. However, this process can only be used for very small scale devices. In order to be able to produce devices with greater sizes, new fabrication techniques need to be developed.
One of these methods involves sol-gel deposition. The sol-gel method involves solution deposition and low-temperature processing. It is also compatible with deposition on large-area substrates. This method has been used to produce a variety of hybrid materials. It is also useful for the fabrication of high-dielectric-constant nanocomposites.
Organic thin-film transistors are used in integrated circuits, active-matrix displays, and sensor arrays. They are used for biomedical sterilization processes, and are also useful in flexible electronics applications.
Biomimicry
Whether you are interested in biomimicry or physics, the field of flexible organic electronics spans both. This type of technology could be used for applications such as bio-compatible neural interfaces, as well as wearable microelectronic devices. The materials used in this type of technology are based on the same principles used to build living tissue, and are therefore intrinsically biocompatible. However, this type of technology will never compete with silicon CMOS technology.
A recent study demonstrated a high performance flexible organic transistor. This type of technology uses self-assembled gold nanoparticles embedded in an organic C8-BTBT conducting channel. These devices have a number of advantages over standard electrodes. The main failure mechanism is delamination of the metal electrodes. However, the devices remained stable under bending cyclic testing.
Although this technology hasn't hit the consumer market yet, it does hold promise for future applications. Its flexibility can allow neural interfaces to be fabricated on a flexible substrate. The materials used can be tuned to improve device performance. This type of technology holds a lot of promise for future neural interfaces. Its flexibility can allow neural interfaces that are able to incorporate optical and electrical analysis.
Although the OTFT is not the first to be demonstrated, this technology has shown a number of interesting properties. These include low operational voltage, low cost, and high bending stability. The devices can also be made transparent, allowing for a plethora of optical and electrical analysis. In addition, this technology has the ability to perform several synaptic functions when subjected to bending.
The field of flexible organic electronics is only in its infancy, and much work remains to be done before this technology can replace silicon CMOS technology.
Low-cost printed electronics
Printed, organic, flexible electronics are a new area of electronic applications. These applications are based on the use of printed materials and have the potential to enable new applications and lower production costs. They also offer improved transparency, mechanical flexibility, and environmental credentials.
Low cost printed electronics are possible due to the use of semiconducting inks. These materials are used for a variety of applications including flexible transistors, diodes, and passive components. They can also be used to prepare backplanes for OLED displays.
Printable electronic inks can also be used to demonstrate various types of sensors. This type of printing also offers mechanical and chemical flexibility. Typically, ink materials are based on carbon-based compounds. They can also be used to demonstrate multilayer interconnection.
These materials are used in flexible electronics because they are highly compatible with a variety of substrates. They are also more affordable than silicon per square inch. However, their performance is unpredictable because they are often compatible with versatile solution processing methods.
Printed, organic, flexible electronics are being explored by over 3,000 organizations. They are expected to revolutionize the electronics manufacturing industry. They can be produced in an additive process and are compatible with a wide range of substrates. This type of electronics is ideal for large-area systems. It can also be manufactured in a cost-effective, low-temperature process.
In addition to low cost, printed electronics are ideal for use in large areas. They can be used in healthcare applications and enable the IoT. They also allow for rapid prototyping and scalability.
These technologies also have the potential to replace silicon-based electronics. They are compatible with a wide range of substrates and are ideal for direct write applications.
Silicon Wafers For Flexible Organic Transistors
During the last decade, researchers have been focused on silicon wafers for flexible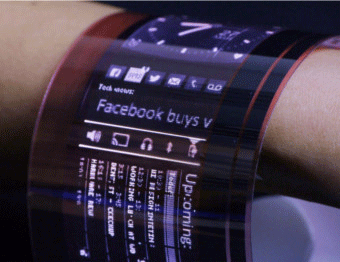 organic transistors. These devices are used in a variety of applications, including cellular phones, Bluetooth, and digital cameras. The semiconductors are produced using a process called molecular beam epitaxy, which makes them very flexible. However, the technology is still relatively new. It's also been difficult to scale up production.
Printing OTFT devices
Printed organic transistors on silicon wafers are a potential technology for large-area electronics applications. This technology provides excellent mechanical flexibility, low energy consumption and molecule-level design flexibility. A number of low-cost solution-based processes are available for OTFT fabrication. Moreover, vacuum deposition processes have been developed for OTFTs. In addition, many large-area printing/coating methods have been used for OTFT fabrication.
Several technical issues have been identified for printing electrodes for OTFTs. The major issue concerns the inhomogeneous transfer of organic semiconducting ink. In addition, there are also technical issues related to the cross-sectional profile and the geometry shapes. Moreover, there is the potential for leakage of printed OTFT devices. These issues may adversely affect the performance of OTFT devices.
A number of studies have been conducted to overcome the technical problems of printing electrodes for OTFTs. For example, flexography-printed silver electrodes have been successfully applied in OTFT fabrication. The electrical properties of the devices were correlated to the quality of the semiconducting ink. In addition, the OTFT test device demonstrated the best switching speeds among fully-printed transistors.
Several traditional coating methods have also been used to fabricate OTFTs' GIs. Specifically, IJP Ag electrodes were used in combination with all-solution processing. IJP Ag electrodes have a contact resistance of 0.42 MO cm, which is much lower than that of BGBC OTFTs. Moreover, they have low flat surface profiles, which enable fine electrode/channel interfaces. In addition, they can be used with TIPS-pentacene/PS. Moreover, they are useful for low-voltage OTFT architecture.
Other technologies have also been introduced to fabricate printable OTFTs. In addition, drop-on-demand inkjet printing has been developed as a potential method for printing electrodes for OTFTs. This method has many advantages, such as mask-less patterning, non-contact electrodes and low cost.
In addition, this technology has the potential to integrate fine inkjet-printed silver electrodes into low-voltage OTFT architecture. This technology may also be used to decrease channel length. Moreover, printed Ag electrodes can be used as source/drain electrodes for OTFTs. This technology also offers the advantages of scalability and non-contact electrodes. Its applications are expected to become practical in low-cost OTFT applications.
Inverter-based circuits
Printed organic transistors may become the basis for future high performance integrated circuits. This research is motivated by the need for low-voltage operating organic electronic circuits in applications such as the Internet of Things. A variety of organic thin-film transistors have been screen printed. They were tested with a voltage-to-voltage amplifier to determine their gain. Several complementary inverter circuits were fabricated using diF-TES-ADT and TU-3 as p-type organic semiconductors.
A circuit schematic is illustrated in Figure 1. Three inverter designs were tested. In the first inverter, a VIN signal is applied to the gate electrode. This signal is then used to power the second inverter. This second inverter also has an output node, which is connected to the voltage supply. During the signal transition, the load capacitance is charged and discharged. This capacitance is then recorded at the measurement node of the last inverter. The measured switching behavior is summarized in Figure 2.
Compared to the first design, the second inverter has a lower on-current value. It has a wider output voltage swing. Its operational lifetime was also improved. Its operational lifetime was doubled when the driving voltage was decreased.
The performance of the inverter is also investigated with three sets of VIN levels. It is found that the inverter has an improved performance at higher frequencies. It has a better matching between on and off switching times.
It is found that the propagation delay is affected by the load capacitance in the OECT. The propagation delay of the inverter is defined as the average of the tpLH and tpHL. It is found that tpLH is smaller when the load capacitance is smaller. This results in a shorter propagation delay.
The inverter is an important component of logic circuits. The voltage and time of the switching of the logic circuits are affected by the propagation delay. The VOUT signal is measured during a few hundred milliseconds. This data is used to better view the VOUT signals. The VOUT,H graph begins to fall after about 1.5 hours of constant switching at one Hz.
Wrinkling
Using the concept of wrinkling instability, the authors present a method for achieving ultrathin organic transistors with a minimum bending radius of 0.7 mm. This is a significant improvement in the mechanical robustness of organic devices. However, further work is required to determine the limitations of organic semiconductor performance under mechanical strain.
The method consists of two steps: first, the elastomeric substrate is compressed with a thermal mismatch to the silicon wafer. Second, the wrinkles are induced by a release of PDMS on the elastomeric substrate. The wrinkles result from stress at the transistor/elastomer interface, due to the mismatch between the PVF and PDMS Young's moduli.
The wrinkling instability can be reversed for small values of compressive and tensile strain. This is an important consideration because it can be used to modulate organic semiconductor performance. The wrinkling instability of thin films on soft substrates applies local compressive and tensile strains to the capping film in a continuous fashion. This process is reversible and non-destructive. It is also predictable.
To demonstrate the effects of the wrinkling instability on the mechanical performance of a thin organic transistor, a series of transistors were fabricated. A set of transistors with high mobilities were fabricated for the study. The transistors were produced with a two-mm thick substrate. The substrate was a cylindrical elastomeric substrate. This allows for precise alignment of applied strain. The transistors have an Ion/Ioff value of 106.
Transistor mobility is predicted to change as a function of the channel aspect ratio. This is attributed to compressive net strains in the conducting channel. The mobility trend is also shown as a function of the channel length. In addition, the local channel strain depends on the position of the zcon. The mobility trend is also correlated to the tensile net strains in the conducting channel.
The wrinkling instability of thin films applied to soft substrates is non-destructive and predictable. It is also reversible for small values of compressive and tensile compressive strains. It is therefore important for future flexible electronic devices. It can also be applied to improve sensing performance.
Air-stable organic semiconductors
Printed organic transistors have been developed as a low cost and environmentally friendly device. These organic semiconductors are compatible with low cost plastic film substrates and are compatible with low temperature printing methods. Printed electronics are now being used in a wide variety of applications such as environmental applications, agricultural uses, and smart labels. The use of flexible electronics can be a very important component in the Internet of Things (IoT) society. It is expected that a vast number of electronic devices will be connected to cloud computing networks in the future. In addition, they can be used for low cost and environmentally friendly manufacturing of RFID tags and smart labels. Moreover, printed electronics can be mounted on almost anything.
The electronic structure of a material is important for its stability. The electronic structure of a device is influenced by its dielectric morphology, electronic properties, and chemical structure of the gate dielectric. When the device operates in low fields, the contact resistances at the metal/organic interface become more important.
The mobility of charge carriers in an organic semiconductor is affected by the density of the charge carriers. An organic semiconductor's mobility is usually anisotropic. In addition, the density of charge carriers varies largely along the conducting channel. A molecular crystal has a mobility of about 1 to 10 cm2 V-1 s-1, while the mobility of a solid-state semiconductor is much larger.
The electronic structure of an organic semiconductor is important for its stability. The dielectric morphology, electronic properties, as well as the chemical structure of the gate dielectric affect the charge transport. The mobility of n-type organic semiconductors is significantly lag behind the mobility of p-type organic semiconductors. However, n-type organic semiconductors have been developed as promising materials.
N-type organic semiconductors are primarily derived from halogen and cyano derivatives. In addition to halogen and cyano substituted n-type semiconductors, imide functionalizations have been developed. Moreover, n-type organic semiconductors have electron-deficient aromatic diimides, which have attracted increasing interest.
Compared to p-type organic semiconductors, n-type organic semiconductors exhibit ambient instability. The cause for the instability is redox reaction with oxygen. However, organic field-effect transistors have received a lot of attention in large-area electronic devices. Moreover, n-type OTFT devices are important elements in digital circuits. Therefore, their long-term stability and reliability must be assessed.