How do Researchers Use Germanium?
Researchers have also found many other interesting properties of germanium. For example, they have been able to use this metal in place of lead in semiconductors because the two elements are able to produce electricity when put in contact with each other. They have also found other ways in which germanium combines with oxygen, creating a compound called Oxygenated Germanium (ONG), which creates a positive charge that makes up a large part of the material's nucleus. Other applications for germanium include forming a layer of low-density silicon within quartz crystals, which is capable of achieving great strength and stability.
Get Your Quote FAST!
The traditional semiconductor materials are reaching their limits in terms of performance and cost. In order to continue to improve the performance of electronic devices, we need to find new materials that can replace these traditional materials.
Germanium wafers offer promising properties as a substrate for semiconductor devices. It has high transmittance, high refractive index, and good photoelectric performance. It is also stable at high temperatures and can be used for a variety of applications.
germanium wafer price
germanium electrical conductivity
germanium wafer singapore
germanium wafer thickness
germanium wafers manufacturers
germanium wafer cost
germanium optical material
germanium optical properties
germanium optical transmission
germanium insulator wafer
germanium optical window
germanium wafer cleaning
germanium wafer supplier
germanium wafer
germanium electrical properties
germanium wafers utah
germanium optical absorption
electrical resistivity pure germanium
germanium optical glass
germanium-on-insulator substrates by wafer bonding
germanium optical grade
germanium wafers umicore
germanium
germanium diode
detector germanium
silicon germanium
germanium transistor
element germanium
germanium n type wafer
germanium production
Below are just some of the Germanium Substrates that we carry.
5x5x0.5mm P/Ga (111) SSP <1 ohm-cm
50.8mm N/Sb (100) SSP <1 ohm-cm
50.8mm Undoped (100) DSP >50 ohm-cm
50.8mm P (100) <1 ohm-cm SSP
10x5x0.5mm Undoped (110) SSP >50 ohm-cm
100mm N (100) SSP < 0.4 ohm-cm
150mm and 200mm Available - Please contact us
GeOI - aslo available
Some Specs of our Electrical Grade Germanium
Material: VGF Ge Single Crystal Wafer
Grade: Prime, Epi-Ready
Doping: Semi-Conducting, P tyoe, Ga Doped
Diameter: 100.0+0.4
Orientation: (100)+0.5Â Â Angle: N/A
Primary Flat: <110>+2Â Â Length: 32+2
Secondary Flat: None  Length: N/A
Carrier Conc: (0-5~4)E17*
Resistivity: Mobility: N/A
EPD (Average): Thickness: 550+25
TTV: N/AÂ TIR: N/A
Bow: N/AÂ Warp: N/A
Particle Count: N/A
Surface Finish: Side 1 : Polished Side 2: Etched
LaserMark: None
Other Req: *Deviates from your specifications.
Packaging: ePAK - Wafer fastened by a spider in an
individual tray and then
sealed with N2 in a moisture-stopping metallic foil bag.
Packing done in a class 100 clean room.
What is Germanium (Ge)?
Germanium has been around for millions of years. It is a soft silicate mineral which is used widely in the electronics industry for its ability to conduct electricity. Most people think of germanium when they hear the term 'germanium' associated with computer chips.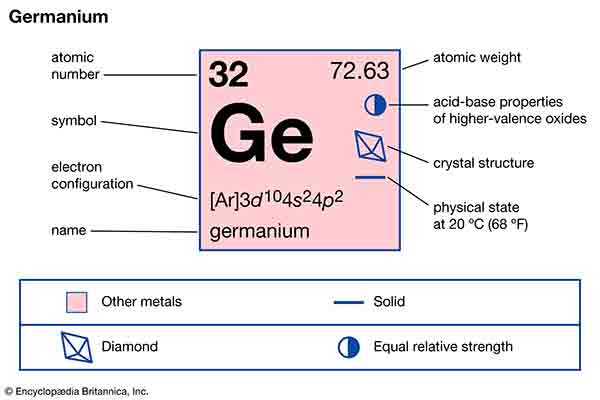 Germanium can be found naturally occurring in a variety of minerals. Some common examples are americium (notably americium oxide) and manganese. In addition, germanium can be synthetically produced by chemical reactions involving bismuth, oxygen, nitrogen, phosphorus and many other elements. The properties of germanium best illustrate its ability to produce high electrical currents: its temperature range is relatively low, and it contains a large amount of radiation with low loss through breakdown.
Its history is closely tied to the history of semiconductors. Germanium comes from a combination of elements with high electrical conductivity and the ability to form a thin film. During the early days of the semiconductor manufacturing process, germanium compounds were used to improve the performance of semiconductors. However, they also had other applications as well: During the 20th century, they were used extensively in motion detectors for automobile navigation systems. After that time, other applications began to develop, with the development of new materials which combined the unique properties of germanium with others, such as silicon, to create new all-purpose materials.
Initially, the main way that germanium compounds were used was in the construction of semiconductors. They combined with certain other elements to increase their electrical current stability, and their low-weight and high-quality construction allowed them to be used in thin-film photovoltaic cells. Today, nearly all the semiconductors in use are based on germanium technology. The reason for this is because they combine the properties of both silicon and germanium to bring about enhanced power conversion efficiency, and increased device life. Additionally, by using small amounts of these two elements, the current stability of semiconductors can be improved, resulting in further miniaturization of electronic components.
With the continued miniaturization of electronic devices, the need for additional, less expensive material was needed. In order to address this issue, the composite material known as Silicon carbide was developed. It combines many of the characteristics of germanium with those of carbon, while still maintaining the properties needed for electrical conductivity, weight, and durability.
As part of the effort to improve human health, the properties of germanium compounds have been used as catalysts in medical applications. These catalytic reactions occur when an external current is applied to a series of exposed, negatively charged chemical bonds. The existence of a charge provides a logic for the reaction, as some types of bonds will be negatively charged while other types will be positively charged. This chemical reaction then causes the electron in the bond to move between the two substances, creating energy needed to create a motion in which the electron can transfer to a higher or lower state of a substance's molecular structure. This results in a chemical reaction that produces energy and often yields a change in that substance's physical or other characteristics. For example, many chemical reactions commonly used in laboratories' chemistry labs commonly incorporate the use of a germanium catalyst.
Germanium compounds have also found applications in other fields, including medical applications. Because the germanium used for catalyzing chemical reactions is similar in structure to a human hair, many medical applications make use of the infrared (IR) spectroscopy, which can detect the presence of germanium in solid materials. This helps doctors diagnose eye problems, detect eye tumors, and monitor the eyes of patients undergoing surgery. These medical uses of germanium are only the tip of the iceberg; research has discovered that these compounds have many more potential applications in the field of electronics.
What is the Germanium Wafer Market Size?
The Germanium semiconductor material is an ideal semiconductor material, due to its unique properties. Its high transmittance, high refractive index, high frequency, and good photoelectric performance make it an excellent choice for the semiconductor industry. The materials are used for a wide variety of applications, including solar cells, infrared optics, and semiconductor devices. These materials are packaged and stored in class 1000 clean rooms and are shipped directly to the manufacturing facility.
The Germanium semiconductor market has remained steady in recent years, largely thanks to the technological development. Its high-frequency spectral range, good chemical stability, and easy processing make it a valuable commodity. Its excellent photoelectric performance makes it an ideal choice for many applications. Its high transmittance and high refractive index are also valuable to many industries. Infrared optics, solar panels, and semiconductor devices can all be manufactured using Germanium-based substrates. The report includes the size of the global market for Germanium wafers, and even the size of the regional and country markets for the Germanium-based semiconductors.
Besides being rare, germanium is also an ideal material for semiconductor manufacturing. It has a high melting point and low electrical conductivity, making it an ideal choice for use in computer chips. This material is relatively cheap and is used for a variety of other electrical applications. Its properties make it a popular choice for the research of semiconductors. In addition, it's easy to purchase, which makes it a better option for the semiconductor industry.
The Germanium Wafers market is a vital part of semiconductor production. The semiconductor industry has been dominated by silicon since the 1950s, and now the technology is relying heavily on silicon. Fortunately, there are several ways to obtain the precious metal. Researchers are developing processes to grow large crystals of germanium in deep underground environments. It will be the only such deep-underground laboratory in the world. It will be one of the few sites to grow the material.
The cost of the Germanium Wafer (Ge-Wafers) market is estimated at USD million in 2020. The report provides detailed market estimates and competitive analysis of the major manufacturers in the global industry. The Germanium-based semiconductor market will be driven by the demand for semiconductors that have excellent electric and crystallographic properties. The study will also identify the factors that drive the growth of the Germanium-based semiconductors.
The cost of Germanium-based semiconductors is determined by the amount of the material. It is more expensive to produce large-scale amounts of the material than to buy small-scale amounts. It is one of the few places in the world where the Germanium crystals are grown. The research will also provide a demand forecast. Further research on the Germanium-based semiconductors market is necessary for the development of future products.
The research report on the Germanium-based semiconductors market analyzes different factors, including drivers and restraints. It also covers the various types, applications, and regions of the market. Moreover, the research report on the Germanium-based semiconductor market offers insights on the overall industry and the competitive landscape in the global geitium-based semiconductors market. This report aims to provide the latest information about the product and the companies involved.
The research report on the Germanium-based semiconductors market is segmented according to the company, type, and application. By region, the study covers the North America, Europe, and Asia-based markets. The global Germanium-based semiconductors market is highly competitive, but there are several opportunities for the market to grow. This report provides detailed insights into the market for the company and the product in each segment. For example, the United States and China are major players in the Germanium-based semiconductors market.