A semiconductor that is degenerately doped shows metal-like behavior when heated. This is because the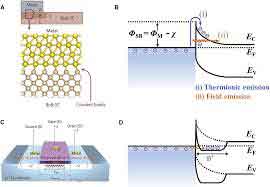 dopants are much heavier than the host atoms, so they can accept an electron from their neighboring atom. This is a degenerate state, so it is not a true metal. However, it can behave like a metal if the doping is high enough.
A semiconductor's electrical properties depend on the amount of impurities added. Light, moderate, or high doping is termed an extrinsic semiconductor. In contrast, degenerate silicon is degenerate, which means it acts like a metal. It's also called an activated semiconductor. In the semiconductor industry, this property is used to make transistors.
When the dopants are highly concentrated, the conductivity increases. More carriers are available to conduct, which makes degenerate semiconductors more commonly used in integrated circuits. To determine the level of doping in a semiconductor, superscript plus and minus symbols are used. The former signifies an n-type semiconductor with high doping, while the latter indicates a heavily doped p-type material. While degenerately doped semiconductors have higher conductivity than intrinsic crystalline silicon, they do not have as much energy.
Yes, I am looking for a wafer which have resistivity lower than 1 ohm-cm. In order not to confront an unwanted case in the future, I just want to know what do you mean by "Degenerate Doped Si Wafer" in the description part. Do you want to say the energy difference between Fermi Level and valence band is less than 3kT or do you mean something else? I am looking forward to your reply. Thank you. 
Yes, though the concept of a degenerately doped semiconductor is not a precise one. A degenerately doped semiconductor is one that is so heavily doped that it starts acting like a metal. A degenerately doped semiconductor is one with Nc<1E18/cc which corresponds to p-type Ro<0.040 or n-type Ro<0.020. We consider degenerately doped Silicon to have Ro<0.020 Ohmcm. 
Item
Typ/Dop
Ori.
Dia.
Thck/(μm)
Polish
Res Ωcm
Specs
I046
P/B
[100]
4"
250
DSP
0.1-0.5
SEMI Prime, 2Flats, Empak cst
6854
P/B
[100]
4"
525
SSP
0.1-0.2
SEMI Prime, 2Flats, Empak cst
E654
P/B
[100]
4"
320
DSP
0.08-0.12
SEMI Test, 2Flats, Empak cst, TTV<2μm, SURFACE DEFECTS
7010
P/B
[100]
4"
250
DSP
0.025-0.035
SEMI Prime, 1Flat, Empak cst, TTV<5μm, Diameter 100.0±0.2mm
6881
P/B
[100]
4"
500
DSP
0.025-0.035
SEMI Prime, 1Flat, Empak cst, TTV<5μm
3031
P/B
[100-6° towards[110]] ±0.5°
4"
525
SSP
0.015-0.020
SEMI Prime, 2Flats, Empak cst
X090
P/B
[100]
4"
300 ±7
DSP
0.014-0.021
Prime, 2Flats, Empak cst, TTV<1μm
7089
P/B
[100]
4"
381 ±7
DSP
0.014-0.021
SEMI Prime, 2Flats, TTV<1μm, Empak cst.
7340
P/B
[100]
4"
250
DSP
0.01-0.02
SEMI Prime, 2Flats, Empak cst
F966
P/B
[100]
4"
250
DSP
0.01-0.02
SEMI Prime, 2Flats, Empak cst
S5896
P/B
[100] ±1°
4"
300
DSP
0.01-0.05
SEMI Prime, Empak cst, TTV<2μm
5833
P/B
[100]
4"
300
E/E
0.01-0.02
SEMI Prime, 2Flats, Empak cst, TTV<4μm
6349
P/B
[100]
4"
525
SSP
0.01-0.02
SEMI Prime, 2Flats, Empak cst, TTV<5μm
M066
P/B
[100]
4"
525
SSP
0.01-0.02
SEMI Prime, 2Flats, Empak cst, TTV<5μm
7085
P/B
[100]
4"
800
SSP
0.01-0.02
SEMI Prime, 2Flats, Empak cst
TS021
P/B
[100]
4"
525
SSPOx
0.009-0.015 {0.0123-0.0140}
SEMI Prime, 2Flats, Back-side: LTO 400nm, Free of Striations, Empak cst
T155
P/B
[100]
4"
525
DSPOx
0.008-0.020
SEMI Prime, 2Flats, Empak cst
6952
P/B
[100]
4"
3,100
DSP
0.006-0.009
SEMI Prime, 2Flats, Individual cst, Group of 4 wafers
5419
P/B
[100]
4"
300
DSP
0.001-0.005
SEMI Test, 2Flats, Empak cst, Both sides with scratches
L419
P/B
[100]
4"
300
DSP
0.001-0.005
SEMI Prime, 2Flats, Empak cst
6919
P/B
[100]
4"
300
SSP
0.001-0.010
SEMI Prime, 2Flats, Empak cst
D919
P/B
[100]
4"
300
SSP
0.001-0.010
SEMI TEST - scratches, in unsealed cst, 2Flats, Lasermark, Empak cst
I135
P/B
[100]
4"
500
DSP
0.001-0.005
SEMI Prime, 2Flats, Empak cst, Wafers with striation marks
7282
P/B
[100]
4"
525
DSP
0.001-0.005
SEMI Prime, 1Flat, Empak cst, TTV<5μm, Free of striation marks
6719
P/B
[100]
4"
525
SSP
0.001-0.005
SEMI Prime, 2Flats, Empak cst, TTV<5μm
6900
P/B
[100]
4"
525
SSP
0.001-0.005
SEMI Prime, 2Flats, Empak cst, TTV<5μm
7383
P/B
[100]
4"
525
SSP
0.001-0.005
SEMI Prime, 2Flats, Empak cst, TTV<5μm
I383
P/B
[100]
4"
525
SSP
0.001-0.002
SEMI Prime, 2Flats, Empak cst, TTV<5μm
K173
P/B
[100]
4"
525
BROKEN
0.001-0.005
Broken wafer (shattered into many pieces), 1Flat
5420
P/B
[100]
4"
800
C/C
0.001-0.005
SEMI, 2Flats, Empak cst, With striation marks
G134
P/B
[100]
4"
1,000 ±50
DSP
0.001-0.005
Prime, NO Flats, Empak cst
L135
P/B
[100]
4"
2,000 ±50
DSP
0.001-0.003
Prime, NO Flats, Individual cst
D372
P/B
[111-3°]
4"
400
SSP
0.015-0.018
SEMI Prime, 1Flat, Empak cst
TS008
P/B
[111] ±1°
4"
380 ±10
SSP
0.010-0.015 {0.0124-0.0136}
SEMI Prime, 1Flat, Empak cst, TTV<8μm
TS117
P/B
[111-3°] ±0.5°
4"
381 ±15
SSPOx
0.01-0.02 {0.0168-0.0172}
SEMI Prime, 1Flat, Back-side LTO (0.8-0.9)μm, TTV<5μm Cassettes of 22 wafers
4279
P/B
[111-4°] ±0.5°
4"
525
SSP
0.01-0.02
SEMI Prime, 1Flat, Empak cst
F508
P/B
[111] ±0.5°
4"
525
SSP
0.01-0.02
SEMI Prime, 1Flat, Empak cst, TTV<3μm, Bow<10μm, Warp<30μm
G508
P/B
[111] ±0.5°
4"
525
SSP
0.01-0.02
SEMI Prime, 1Flat, Empak cst, TTV<3μm, Bow<10μm, Warp<30μm
TS033
P/B
[111-4°] ±0.5°
4"
525
SSP
0.01-0.02 {0.0140-0.0186}
SEMI Prime, 1Flat, Back-side: Hard-Damage, Empak cst
TS077
P/B
[111-4°] ±0.5°
4"
525
SSP
0.01-0.02 {0.0140-0.0186}
SEMI Prime, 1Flat, Empak cst (4+5+5+10+15+20 wafers)
TS114
P/B
[111-3.5°] ±0.5°
4"
525
SSP
0.01-0.02 {0.0132-0.0136}
SEMI Prime, 1Flat, TTV<5μm, Empak cst, Cassettes of 22 + 19
TS115
P/B
[111-3°] ±0.5°
4"
525 ±15
SSP
0.01-0.02 {0.0165-0.0169}
SEMI Prime, 1Flat, TTV<5μm, Lasermarked, Cassettes of 21 + 13 wafers
TS116
P/B
[111-3°] ±0.5°
4"
525 ±15
SSP
0.01-0.02 {0.0158-0.0168}
SEMI Prime, 1Flat, TTV<5μm, Empak cst, Cassettes of 22 wafers
TS038
P/B
[111-3.5°] ±0.5°
4"
525 ±15
SSP
0.007-0.009 {0.0071-0.0085}
SEMI Prime, 1Flat, Empak cst, TTV<5μm
TS069
P/B
[111-3.5°] ±0.5°
4"
525 ±15
SSP
0.007-0.009 {0.0071-0.0085}
SEMI Prime, 1Flat, Empak cst, TTV<5μm
TS031
P/B
[111-3.5°] ±1°
4"
475
SSP
0.005-0.020 {0.0138-0.0150}
SEMI Prime, 1Flat, Back-side Acid Etch, Empak cst
C228
P/B
[111-4°] ±0.5°
4"
525 ±15
SSPOx
0.005-0.015 {0.0086-0.0135}
SEMI Prime, 1Flat, Empak cst, TTV<5μm, 5,000A LTO on back-side
TS032
P/B
[111-3.5°] ±0.5°
4"
525
SSP
0.004-0.008 {0.0059-0.0071}
SEMI Prime, 1Flat, Free of Striations, Empak cst (7+19+22+3×25 wafers)
TS113
P/B
[111-3.5°] ±0.5°
4"
525
SSP
0.004-0.008 {0.0054-0.0067}
SEMI Prime, 1Flat, TTV<6μm, Empak cst, Cassettes of 22 wafers
TS016
P/B
[111] ±1°
4"
350 ±10
DSP
0.002-0.005 {0.0039-0.0042}
SEMI Prime, 1Flat, Free of Striations, Empak cst
1223
P/B
[111-3°] ±0.5°
4"
525
SSP
0.002-0.016
SEMI Prime, 1Flat, in Empak cassettes of 4 & 5 wafers
D858
P/B
[111-3°]
4"
525
SSP
0.002-0.004
SEMI Prime, 1Flat, Empak cst
E389
P/B
[111] ±0.5°
4"
300
DSP
0.001-0.005
SEMI Prime, 1Flat, Empak cst, TTV<5μm, With Lasermark, With striation marks
TS049
P/B
[111-3.5°] ±1°
4"
300 ±15
SSP
0.001-0.002 {0.0018-0.0019}
Prime, 1Flat, TTV<5μm, Free of Striations, Empak cst
7284
P/B
[111] ±0.5°
4"
525
SSP
0.001-0.005
SEMI Prime, 1Flat, Empak cst, TTV<5μm
TS009
P/B
[111-3°] ±0.5°
4"
750
SSP
0.001-0.005 {0.0035-0.0042}
SEMI Prime, 1Flat, Edge profile: R type, Empak cst, cassettes of 7 + 12 wafers
D599
P/B
[111] ±0.5°
4"
1,000
DSP
0.001-0.005
SEMI Prime, 1Flat, Empak cst
F022
P/B
[111] ±0.3°
4"
350 ±5
DSP
<0.05
SEMI Prime, 1Flat, Empak cst, TTV<1μm, Bow/Wrp<15μm
4949
P/B
[111] ±0.5°
4"
1,000
SSP
<0.01
SEMI Prime, 1Flat, Empak cst
4024
N/As
[110] ±0.5°
4"
275
DSP
0.001-0.005
SEMI TEST (Haze and scratches, TTV<15μm), Primary Flat at [111]±0.5°,
Secondary at 70.5°±5° CW from Primary, Empak cst
4293
N/As
[110] ±0.5°
4"
275 ±10
DSP
0.001-0.005
SEMI Prime, 2Flats @ [111] - Secondary 70.5° CW from Primary, Empak cst, TTV<5μm
E024
N/As
[110] ±0.5°
4"
275 ±10
DSP
0.001-0.005
SEMI Prime, 2Flats at [111] 70.5° apart, TTV<5μm, Empak cst
L808
N/As
[110] ±0.5°
4"
500
DSP
0.001-0.005
SEMI Prime, 1Flat @ [111], Empak cst
H562
N/As
[110] ±0.5°
4"
525
SSP
0.001-0.005
Prime, 1Flat @ <1,-1,0>, Empak cst
6562
N/As
[110] ±0.5°
4"
525
E/E
0.001-0.005
SEMI Prime, 1Flat @ <1,-1,0>, Empak cst
6535
N/Ph
[100]
4"
525
SSP
0.3-0.5
SEMI, 2Flats, Empak cst
E134
N/Ph
[100]
4"
275
DSP
0.10-0.15
SEMI Test, 2Flats, Empak cst, Both sides with scratches
7017
N/Sb
[100]
4"
450
SSP
~0.03
SEMI Prime, 1Flat, Empak cst, Cassettes of 1 + 3 wafers
H304
N/Sb
[100]
4"
525
SSP
0.020-0.022
Prime, 2Flats, Empak cst
E031
N/Sb
[100-6° towards[110]] ±0.5°
4"
525
SSP
0.015-0.020
SEMI Prime, 2Flats, Empak cst
K932
N/Sb
[100]
4"
275
SSP
0.01-0.02
SEMI Prime, 2Flats, Empak cst
TS126
N/Sb
[100] ±1°
4"
300
SSP
0.01-0.02 {0.0143-0.0156}
SEMI Prime, 2Flats, Empak cst
B905
N/Sb
[100]
4"
310 ±15
DSP
0.010-0.025
SEMI Test, 2Flats, TTV<5μm, Light defects on back side, Empak cst
TS027
N/Sb
[100-2.5°] ±0.5°
4"
380 ±10
DSPOx
0.01-0.02 {0.0119-0.0131}
SEMI Prime, 2Flats, Empak cst, TTV<5μm, Back-side LTO 5,000A
TS028
N/Sb
[100-2.5°] ±0.5°
4"
500 ±10
DSP
0.01-0.02 {0.0144-0.0148}
SEMI Prime, 2Flats, Empak cst, TTV<5μm
TS125
N/Sb
[100]
4"
525
SSPOx
0.01-0.02 {0.0149-0.0156}
SEMI Prime, 2Flats, Back-side LTO (0.45-0.55)μm, TTV<7μm, Cassettes of 22 wafers
6790
N/Sb
[100]
4"
525
SSP
0.01-0.02
SEMI Prime, 2Flats, Empak cst, TTV<5μm
F138
N/Sb
[100]
4"
525
SSP
0.01-0.02
SEMI Prime, 2Flats, Empak cst
TS040
N/Sb
[100] ±1°
4"
525
SSPOx
0.005-0.020 {0.0161-0.0182}
SEMI Prime, 2Flats, Back-Side: LTO 400nm, TTV<5μm, Bow<5μm, Warp<10μm, Empak cst.
TS044
N/Sb
[100]
4"
525
SSP
0.005-0.020 {0.0133-0.0155}
SEMI Prime, 1Flat, Empak cst, TTV<5μm
TS127
N/As
[100] ±1°
4"
360 ±15
DSP
0.004-0.008 {0.0054-0.0067}
SEMI Prime, 2Flats, TTV<5μm, Cassettes of 22 + 21 + 19 wafers
6304
N/As
[100]
4"
525
SSP
0.0025-0.0035
SEMI Prime, 2Flats, Empak cst
S5889
N/As
[100]
4"
440 ±10
DSP
0.002-0.004
SEMI Test, 1Flat, Empak cst, TTV<1μm, Non-Prime wafers, cannot be reworked
TS128
N/As
[100]
4"
525
SSP
0.002-0.005 {0.0026-0.0030}
SEMI Prime, 2Flats, TTV<7μm, Empak cst, Cassettes of 22 wafers
U671
N/As
[100]
4"
545
E/E
0.002-0.004
SEMI, 1Flat, Empak cst
6403
N/As
[100]
4"
525
DSP
0.001-0.005
SEMI Prime, 1Flat, Empak cst, TTV<5μm
6401
N/As
[100]
4"
525
SSP
0.001-0.005
SEMI Prime, 2Flats, Empak cst, TTV<5μm
F219
N/As
[100]
4"
525
SSP
0.001-0.005
SEMI Test (Chipped edge), 2Flats, Empak cst
TS062
N/As
[100]
4"
525
SSP
0.001-0.005 {0.0029-0.0037}
SEMI Prime, 2Flats, Empak cst, TTV<7μm, Bow<20μm, Warp<25μm
F562
N/As
[100]
4"
525
PlyASSP
0.001-0.005
With layer of Al2O3, ~0.1μm or ~0.05μm thick, Wafers with a matrix of Polycrystalline Silicon dots, Empak cst,
[More Info]
E720
N/As
[100]
4"
550 ±10
DSP
0.001-0.005
SEMI Prime, 2Flats, Empak cst
7347
N/As
[100]
4"
300
SSP
<0.005
SEMI Prime, 2Flats, Empak cst, TTV<5μm
4975
N/Sb
[211] ±0.5°
4"
1,500 ±15
DSP
0.01-0.02
SEMI Prime, 1Flat, Empak cst, TTV<1μm
F975
N/Sb
[211] ±0.5°
4"
1,600
C/C
0.01-0.02
SEMI Test, 1Flat, Empak cst, Wafers can be polished for additional fee
S5810
N/Ph
[111] ±1.0°
4"
525
SSP
0.3-50.0
SEMI Prime, 2Flats, Empak cst
S5840
N/Ph
[111] ±1.0°
4"
565 ±10
E/E
0.3-50.0
SEMI Prime, Empak cst
TS067
N/Sb
[111-4°] ±0.5°
4"
457
SSP
0.02-0.05 {0.0204-0.0342}
SEMI Prime, 2Flats, Empak cst
TS078
N/Sb
[111-4°] ±0.5°
4"
457
SSP
0.02-0.05 {0.0204-0.0342}
SEMI Prime, 2Flats, Empak cst
7360
N/Sb
[111]
4"
525
SSP
0.0113-0.0118
Prime, 2Flats, Empak cst
TS029
N/Sb
[111-3°] ±0.5°
4"
381 ±15
SSP
0.01-0.02 {0.014-0.018}
SEMI Prime, 2Flats, Back-side: Acid etch, Laser Mark, Empak cst (3+22+5×25 wafers)
6433
N/Sb
[111-0.5° towards[-1,-1,2]] ±0.1°
4"
525
SSP
0.01-0.02
SEMI Prime, 2Flats, Empak cst
TS118
N/Sb
[111-4°] ±0.5°
4"
381
SSP
0.008-0.020 {0.0116-0.0194}
SEMI Prime, 2Flats, HBSD, Empak cst, Cassettes of 22 wafers
TS119
N/Sb
[111-4°] ±0.5°
4"
381
SSP
0.008-0.020 {0.0108-0.0141}
SEMI Prime, 2Flats, HBSD, Cassettes of 7 + 3 wafers
TS139
N/Sb
[111-4°] ±0.5°
4"
381
SSP
0.008-0.020
SEMI Prime, 2Flats, HBSD, Empak cst, Cassettes of 5 + 15 wafers
9544
N/Sb
[111-4°] ±0.5°
4"
420
SSPOx
0.008-0.018 {0.0138-0.0151}
SEMI Prime, 2Flats, Empak cst, Epi edges, TTV<2μm, HBSD+LTO seal
TS020
N/Sb
[111-4°] ±0.5°
4"
490
SSP
0.007-0.020 {0.016-0.017}
SEMI Prime, 2Flats, Empak cst
TS064
N/Sb
[111-4°] ±0.5°
4"
525
SSP
0.007-0.020 {0.0157-0.0171}
SEMI Prime, 2Flats, Empak cst
TS068
N/Sb
[111-3°] ±0.5°
4"
525 ±15
SSP
0.006-0.020 {0.0094-0.0184}
SEMI Prime, 1Flat, Empak cst
TS073
N/Sb
[111-3°] ±0.5°
4"
525 ±15
SSP
0.006-0.020 {0.0094-0.0184}
SEMI Prime, 1Flat, Empak cst (20+20 wafers}
TS120
N/Sb
[111-2.5°] ±0.5°
4"
400 ±15
SSP
0.005-0.018 {0.0150-0.0174}
SEMI Prime, 1Flat, HBSD, Empak cst, Cassettes of 22 wafers each
B786
N/Sb
[111-4.0°] ±0.5°
4"
475 ±15
SSP
0.005-0.020 {0.0113-0.0156}
SEMI Prime, 2Flats, Empak cst
TS014
N/Sb
[111-1.5°] ±0.15°
4"
525
SSPOx
0.005-0.018 {0.0129-0.0161}
SEMI Prime, 2Flats, Back-side: LTO 400nm thick , Empak cst
TS015
N/Sb
[111-1.5°] ±0.15°
4"
525
SSPOx
0.005-0.018 {0.0129-0.0161}
SEMI Prime, 2Flats, Back-side LTO 400nm, Empak cst
TS065
N/Sb
[111-3°] ±0.2°
4"
525
SSP
0.005-0.015 {0.0117-0.0143}
SEMI Prime, 2Flats, Empak cst
TS066
N/Sb
[111-3°] ±0.5°
4"
525
SSP
0.005-0.020 {0.0182-0.0199}
SEMI Prime, 2Flats, Empak cst
TS121
N/As
[111-3°] ±0.5°
4"
380 ±15
SSPOx
0.004-0.008 {0.0041-0.0044}
SEMI Prime, 2Flats, Back-side LTO (0.75-0.95)μm, TTV<5μm, Cassettes of 22 wafers
TS138
N/As
[111-3°] ±0.5°
4"
380 ±15
SSPOx
0.004-0.008 {0.0041-0.0044}
SEMI Prime, 2Flats, Back-side LTO (0.75-0.95)μm, TTV<5μm, Cassettes of 22 wafers
5890
N/As
[111] ±0.5°
4"
750
SSP
0.004-0.006
SEMI Prime, 2Flats, Empak cst
TS045
N/As
[111-2.5°] ±0.5°
4"
525
SSPOx
0.003-0.004 {0.0034-0.0037}
SEMI Prime, 2Flats, TTV<4μm, Back-side: LTO 500nm, Empak cst
TS122
N/As
[111-4°] ±0.5°
4"
525
SSP
0.002-0.005 {0.0027-0.0033}
SEMI Prime, 2Flats, HBSD, TTV<8μm, Cassettes of 22 wafers
TS123
N/As
[111-4°] ±0.5°
4"
525
SSP
0.0020-0.0035 {0.0017-0.0030}
SEMI Prime, 2Flats, TTV<8μm, Cassettes of 22 wafers
TS110
N/As
[111-4°] ±0.5°
4"
280 ±15
SSP
0.001-0.004
SEMI Prime, 2Flats, Empak (several partial) csts
5740
N/As
[111-4°] ±0.5°
4"
300
SSP
0.001-0.005
SEMI Prime, 2Flats, Empak cst, Back Surface: Sand blasted
5741
N/As
[111-4°] ±0.5°
4"
325
SSP
0.001-0.005
SEMI Prime, 2Flats, Empak cst, Back Surface: Sand blasted with LTO seal
D741
N/As
[111-4°] ±0.5°
4"
300
SSP
0.001-0.005
SEMI Prime, 2Flats, Back-side Sand-blasted with LTO seal, in Empak cassettes of 7 wafers
9239
N/As
[111-2°] ±0.5°
4"
400
SSPOx
0.001-0.004 {0.0018-0.0036}
SEMI Prime, 1Flat, Epi edges, 0.5μm LTO, Empak cst
TS039
N/As
[111-1.5°] ±0.15°
4"
525
SSPOx
0.001-0.002 {0.00165-0.00198}
SEMI Prime, 2Flats, Back-side LTO 400nm, Empak cst
TS080
N/As
[111-1.5°] ±0.15°
4"
525
SSPOx
0.001-0.002 {0.00165-0.00198}
SEMI Prime, 2Flats, Back-side LTO 400nm, Empak cst
6432
N/As
[111-4°] ±0.5°
4"
525
SSP
0.001-0.005
SEMI Prime, 2Flats, Empak cst
6774
N/As
[111] ±0.5°
4"
525
SSP
0.001-0.005
SEMI Prime, 2Flats, Empak cst, TTV<5μm
J656
N/As
[111-4°]
4"
525
SSP
0.001-0.005
SEMI Prime, 2Flats, Empak cst
TS030
N/As
[111-4°] ±0.5°
4"
525
SSP
0.001-0.005 {0.0036-0.0044}
SEMI Prime, 2Flats, Empak (several partial) csts
TS124
N/As
[111-3.5°] ±0.5°
4"
525
SSP
0.001-0.005 {0.0039-0.0045}
SEMI Prime, 2Flats, HBSD, Taper<5μm, Empak cst
TS051
N/As
[111-4°] ±1°
4"
889 ±15
SSPOx
0.001-0.005 {0.0031-0.0033}
SEMI Prime, 2Flats, Back-side: LTO 500nm, Empak cst
3556
N/As
[111] ±0.5°
4"
1,000
SSP
0.001-0.005 {0.0031-0.0040}
SEMI Prime, 2Flats, Empak cst, TTV<4μm, Bow<10μm, Warp<20μm
76.2mm Degenerately Doped Silicon Wafer (Buy Online)

Item
Typ/Dop
Ori.
Dia.
Thck/(μm)
Polish
Res Ωcm
Specs
H173
P/B
[110] ±0.5°
3"
381
SSP
0.085-0.115
SEMI Prime, Primary Flat @ [111]±0.5°, Secondary @ [111] 109.5° CW from Primary, in Epak cassettes of 6, 7 & 7 wafers
2714
P/B
[110] ±0.3°
3"
381
SSP
0.0448-0.0672
SEMI Prime, 2Flats, Primary @ [111], Secondary @ [111] 109.5±2° CW from Primary, hard cst
G714
P/B
[110] ±0.3°
3"
381
SSP
0.0448-0.0672
SEMI Prime, 2Flats, Primary @ [111], Secondary @ [111] 109.5±2° CW from Primary, in hard cassettes of 5 wafers
E455
P/B
[110] ±0.5°
3"
381
SSP
0.003-0.005
SEMI Prime, Empak cst, Primary Flat @ [111]±0.5°, Secondary Flat @ [111] (109.5±2° CW from Primary)
4394
P/B
[100]
3"
300
DSP
0.5-10.0
SEMI Prime, 1Flat, TTV<2μm, Empak cst
S5853
P/B
[100]
3"
315
DSP
0.5-10.0
SEMI Prime, 1Flat, Empak cst, TTV<3μm
S5610
P/B
[100]
3"
890 ±13
DSP
0.5-10.0
SEMI, Empak cst, TTV<8μm
T206
P/B
[100]
3"
3,050 ±50
C/C
>0.5
1Flat, Individual cst (can be ordered singly)
3014
P/B
[100]
3"
250
SSP
0.15-0.20
SEMI TEST (Scratches), 2Flats, in sealed Empak cassettes of 3 wafers
J014
P/B
[100]
3"
250
BROKEN
0.15-0.20
Broken wafers, in Epak cst
H558
P/B
[100]
3"
356
DSP
0.015-0.020
SEMI, 2Flats, Empak cst
S5843
P/B
[100-4° towards[110]] ±0.5°
3"
230
SSP
0.01-0.02
SEMI Prime, 2Flats, Empak cst, TTV<5μm
2248
P/B
[100]
3"
300
SSP
0.01-0.02
SEMI Prime, 2Flats, Empak cst
4989
P/B
[100]
3"
380
DSP
0.01-0.02
SEMI Prime, 2Flats, Empak cst
5862
P/B
[100]
3"
380
DSP
0.01-0.02
SEMI Prime, 2Flats, Empak cst
G989
P/B
[100]
3"
380
DSP
0.01-0.02
SEMI Prime, 2Flats, Empak cst
5907
P/B
[100]
3"
380
SSP
0.01-0.02
SEMI Prime, 2Flats, Empak cst
7140
P/B
[100]
3"
380
SSP
0.01-0.02
SEMI Prime, 2Flats, Empak cst
S5844
P/B
[100-4° towards[110]] ±0.5°
3"
381
SSP
0.01-0.02
SEMI Prime, 2Flats, Empak cst, TTV<5μm, Cassettes of 4 and 20 wafers
S5801
P/B
[100]
3"
435 ±10
E/E
0.01-0.02 {0.011-0.013}
SEMI, 2Flats, TTV<2μm, coin roll
S5795
P/B
[100]
3"
450 ±10
E/E
0.01-0.02
SEMI Prime, 2Flats, Empak cst
6701
P/B
[100]
3"
100
DSP
0.0026-0.0030
SEMI Prime, 2Flats, Empak cst
7056
P/B
[100]
3"
100
DSP
0.0026-0.0030
SEMI Prime, 2Flats, Empak cst
TS129
P/B
[100]
3"
381
SSP
0.002-0.005 {0.0032-0.0041}
SEMI Prime, 2Flats, TTV<5μm, Empak cst
TS130
P/B
[100]
3"
381
SSP
0.002-0.005 {0.0037-0.0039}
SEMI Prime, 2Flats, TTV<7μm, Empak cst
D414
P/B
[100]
3"
380
DSP
0.001-0.005
SEMI Prime, 2Flats, Empak cst, NOTE: Visible striation marks
6414
P/B
[100]
3"
380
SSP
0.001-0.005
SEMI Prime, 2Flats, Empak cst
S5800
P/B
[111] ±0.5°
3"
508
E/E
0.792-1.008
SEMI TEST, 1Flat, TTV<2μm, Epak cst
TS052
P/B
[111] ±1°
3"
400 ±19
SSP
0.0436-0.0590 {0.0437-0.0446}
SEMI Prime, 1Flat, Empak cst, TTV<3μm
H120
P/B
[111-4°] ±0.5°
3"
381
SSPOx
0.01-0.02 {0.0145-0.0148}
SEMI Prime, 1Flat, Empak cst
6464
P/B
[111-4.0° towards[112]] ±0.5°
3"
406
SSP
0.005-0.015
SEMI Prime, 1Flat, Empak cst
7157
P/B
[111] ±0.5°
3"
600
DSP
0.005-0.020
SEMI Prime, 1Flat, Empak cst
6722
P/B
[111-3.5°]
3"
300
SSP
0.004-0.005
SEMI Prime, 1Flat, Empak cst, TTV<5μm
TS042
P/B
[111-3°] ±0.5°
3"
381
SSP
0.004-0.008 {0.0049-0.0058}
SEMI Prime, 1Flat, Free of Striations, Empak cst
S5909
P/B
[111-4° towards[-211]] ±0.5°
3"
890
SSP
0.001-0.005
Test, 2Flats, Soft cst, Can be repolished for additional fee
B788
N/As
[110] ±0.5°
3"
420
DSP
0.001-0.007
SEMI Prime, in Empak, Primary Flat @ [1,-1,0]
S5580
N/Ph
[100] ±1°
3"
2,286 ±13
DSP
15-28
SEMI Prime, 1Flat, TTV<1μm, Sealed in individual csts, in groups of 5 wafers
J763
N/Sb
[100]
3"
300
SSP
0.02-0.04
SEMI Prime, 2Flats, in hard cassettes of 2 wafers
4200
N/Sb
[100]
3"
381
SSP
0.008-0.020 {0.013-0.019}
SEMI Prime, 2Flats, Empak cst
TS136
N/As
[100] ±1°
3"
381
SSP
0.002-0.004 {0.0028-0.0036}
SEMI Prime, 2Flats, TTV<7μm, Empak cst
U156
N/As
[100]
3"
300
SSP
0.001-0.005
SEMI Prime, 1Flat, Empak cst, Back-side has a non-Prime polish
4096
N/As
[100]
3"
380
SSPOx
0.001-0.005
SEMI Prime, 2Flats, LTO Back-side seal 0.5μm thick, Empak cst
6354
N/As
[100]
3"
380
SSP
0.001-0.005
SEMI Prime, 2Flats, Empak cst, TTV<5μm
TS041
N/As
[100]
3"
889
SSPOx
0.001-0.005 {0.0028-0.0037}
SEMI Prime, 2Flats, Back-side: LTO 500nm thick, Empak cst
TS079
N/As
[100]
3"
889
SSPOx
0.001-0.005 {0.0028-0.0037}
SEMI Prime, 2Flats, Back-side: LTO 500nm thick, Empak cst
1912
N/As
[211] ±0.5°
3"
550
E/E
0.0030-0.0042
SEMI Prime, 1Flat, in Empak cassettes of 7, 8 & 8 wafers
TS132
N/Ph
[111] ±0.5°
3"
525
C/C
0.5-50.0 {0.89-0.98}
SEMI, 1Flat, Empak cst
F136
N/Ph
[111] ±0.5°
3"
1,000
DSP
0.5-2.0
SEMI Prime, 2Flats, Empak cst
2256
N/Sb
[111] ±0.5°
3"
380
SSP
0.019-0.026
SEMI Prime, 2Flats, in Empak cassettes of 5 wafers
4296
N/Sb
[111]
3"
380
SSP
0.008-0.025
SEMI Prime, 2Flats, Empak cst
TS024
N/Sb
[111-3.5°] ±0.5°
3"
381
SSP
0.008-0.016 {0.0142-0.0155}
SEMI Prime, 2Flats, Empak cst, TTV<5μm
TS131
N/Sb
[111-3.5°] ±0.5°
3"
381
SSP
0.008-0.016 {0.0118-0.0133}
SEMI Prime, 2Flats, TTV<6μm, Empak cst
S5845
N/Sb
[111] ±0.5°
3"
380
SSP
0.01-0.02
SEMI Prime, 2Flats, Empak cst
TS025
N/Sb
[111-2.5°] ±0.5°
3"
381
SSP
0.005-0.016 {0.0125-0.0130}
SEMI Prime, 1Flat, Empak cst, TTV<5μm
TS070
N/Sb
[111-2.5°] ±0.5°
3"
381
SSP
0.005-0.016
SEMI Prime, 1Flat, Empak cst, TTV<5μm
TS056
N/Sb
[111-1.5°] ±0.5°
3"
700
SSP
0.005-0.018 {0.0154-0.0172}
SEMI Prime, 2Flats, Empak cst (14+15+25+25 wafers)
TS022
N/As
[111-3°] ±0.5°
3"
381
SSP
0.002-0.004 {0.0025-0.0028}
SEMI Prime, 2Flats, Empak cst, TTV<5μm
TS133
N/As
[111-3°] ±0.5°
3"
381
SSP
0.002-0.004 {0.0023-0.0028}
SEMI Prime, 2Flats, Empak cst
6431
N/As
[111] ±0.5°
3"
320
DSP
0.001-0.005
SEMI Prime, 2Flats, Empak cst, TTV<5μm
6385
N/As
[111] ±0.5°
3"
380
SSP
0.001-0.005
SEMI Prime, 2Flats, Empak cst, TTV<5μm
6530
N/As
[111] ±0.5°
3"
380
SSP
0.001-0.005
SEMI Prime, 2Flats, Empak cst, TTV<6μm One partial cassette of 18 wafers and 21 wafers
E380
N/As
[111-4°] ±0.5°
3"
380
SSP
0.001-0.005
SEMI Prime, 2Flats, Empak cst
F385
N/As
[111-4°] ±0.5°
3"
380
SSP
0.001-0.005
SEMI Prime, 2Flats, Empak cst, TTV<5μm
G385
N/As
[111] ±0.5°
3"
380
SSP
0.001-0.005
SEMI Prime, 2Flats, Empak cst, TTV<5μm
TS023
N/As
[111-3°] ±0.5°
3"
381
SSP
0.0010-0.0045 {0.0027-0.0037}
SEMI Prime, 2Flats, Empak cst
TS026
N/As
[111-2.5°] ±0.5°
3"
381
SSP
0.001-0.005 {0.0030-0.0032}
SEMI Prime, 2Flats, Empak cst, TTV<5μm
TS071
N/As
[111-2.5°] ±0.5°
3"
381
SSP
0.001-0.005
SEMI Prime, 2Flats, TTV<5μm, Bow<10μm, Warp<15μm, Empak cst (6+14 wafers)
TS134
N/As
[111-3°] ±0.5°
3"
381
SSP
0.001-0.005 {0.0033-0.0035}
SEMI Prime, 2Flats, TTV<6μm, Empak cst
TS135
N/As
[111-3°] ±0.5°
3"
381
SSP
0.001-0.005 {0.0036-0.0042}
SEMI Prime, 2Flats, Empak cst
TS046
N/As
[111-4°]
3"
889
SSPOx
0.001-0.004 {0.0032-0.0035}
SEMI Prime, 2Flats, Back-side: LTO 500nm, Empak cst
S5858
N/As
[112-3° towards[111]] ±0.5°
3"
890
SSP
0.002-0.003
Prime, 2Flats, Empak cst
D158
N/As
[225]
3"
300
SSP
0.001-0.003
SEMI Prime, 1Flat, Empak cst
3185
P/B
[100]
3"
500
OxDSPOx
0.01-0.02
SEMI Prime, 2Flats, Empak cst, Both-sides-polished, with Thermal Oxide 1.0μm±5% thick
50.8mm Degenerately Doped Silicon Wafer (Buy Online)

Item
Typ/Dop
Ori.
Dia.
Thck/(μm)
Polish
Res Ωcm
Specs
N610
P/B
[100]
2"
280
DSP
0.4-0.6
SEMI Prime, 2Flats, hard cst
6084
P/B
[100]
2"
275
SSP
0.2-0.4
SEMI Prime, 2Flats, hard cst
6479
P/B
[100]
2"
279
DSP
0.08-0.12
SEMI Prime, 1Flat, hard cst
H995
P/B
[100]
2"
300
SSP
0.016-0.017
Prime, NO Flats, hard cst
L163
P/B
[100]
2"
250
DSP
0.015-0.020
SEMI Prime, 1Flat, hard cst
M163
P/B
[100]
2"
250
DSP
0.015-0.020
SEMI Prime, 1Flat, hard cst
T154
P/B
[100]
2"
250
DSP
0.015-0.020
SEMI Prime, 1Flat, hard cst
E918
P/B
[100]
2"
280
DSP
0.015-0.020
Prime, NO Flats, hard cst
5918
P/B
[100]
2"
3,000
SSP
0.015-0.020
Groups of 5 + 5 + 6 wafers, Test, 2Flats, Individual cst, Wafers with defects
D570
P/B
[100]
2"
250
DSP
0.01-0.02
SEMI Prime, 1Flat, hard cst, TTV<5μm
3489
P/B
[100]
2"
300
SSP
0.01-0.02
SEMI, 2Flats, hard cst
6077
P/B
[100]
2"
500
DSP
0.01-0.02
SEMI Prime, 2Flats, hard cst
5916
P/B
[100]
2"
300
SSP
0.001-0.005
SEMI Prime, 2Flats, hard cst
5959
P/B
[100]
2"
300
SSP
0.001-0.005
SEMI Prime, 2Flats, hard cst
7315
P/B
[100]
2"
300
SSP
0.001-0.005
Prime, NO Flats, hard cst
B833
P/B
[100]
2"
300
SSP
0.001-0.005
SEMI Prime, 2Flats, hard cst
H607
P/B
[100]
2"
525
DSP
<0.01 {0.0076-0.0078}
SEMI Prime, 2Flats, in hard cassettes of 5 wafers.
J096
P/B
[111-10° towards[112]]
2"
280
SSP
0.5-0.6
SEMI Prime, 1Flat, hard cst
L445
P/B
[111] ±0.5°
2"
275
DSP
0.1-0.3
SEMI Prime, 1Flat, hard cst
I096
P/B
[111] ±0.5°
2"
280
SSP
0.1-1.0
SEMI Prime, 1Flat, hard cst
J445
P/B
[111] ±0.5°
2"
500
DSP
0.1-0.3
SEMI Prime, 1Flat, hard cst
G776
P/B
[111]
2"
1,000
SSP
0.001-0.005
SEMI Prime, 1Flat, hard cst
5533
P/B
[111] ±0.5°
2"
500
DSP
<0.01
SEMI Prime, 1Flat, hard cst
5596
P/B
[111] ±0.5°
2"
500
DSP
<0.01 {0.00087-0.00100}
SEMI Prime, 1Flat, hard cst
7027
P/Ga
Poly.
2"
C/C
0.024-0.036
Gallium doped Concentrate (each with measured Gallium content)
O763
N/Sb
[110]
2"
375
SSP
0.005-0.020
SEMI, 1Flat, hard cst
P763
N/Sb
[110]
2"
375
SSP
0.005-0.020
SEMI, 1Flat, hard cst
E858
N/As
[110] ±0.5°
2"
280
SSP
0.001-0.005 {0.0048-0.0049}
SEMI Prime, 1Flat, hard cst
F858
N/As
[110] ±0.5°
2"
280
SSP
0.001-0.005 {0.0048-0.0049}
SEMI Prime, 1Flat, hard cst, cassettes of 10 + 10 wafers
J237
N/Sb
[100]
2"
300
SSP
0.01-0.02
SEMI Prime, 2Flats, hard cst
D576
N/Sb
[100]
2"
500
DSP
0.01-0.02
SEMI Prime, 2Flats, in hard cassettes of 5 wafers
4501
N/As
[100]
2"
7,050
SSP
0.0031-0.0038
SEMI Prime, 2Flats, Individual cst Group of 2 wafers
6075
N/As
[100]
2"
300
SSP
0.001-0.005
SEMI Prime, 2Flats, hard cst
6931
N/As
[100]
2"
300
SSP
0.001-0.006
SEMI Prime, 2Flats, hard cst
7355
N/As
[100]
2"
300
SSP
0.001-0.005
SEMI Prime, 2Flats, hard cst
2039
N/As
[100]
2"
420 ±15
DSP
0.001-0.005 {0.0030-0.0034}
SEMI Prime, 2Flats, Empak cst
D10
N/Ph
[111]
2"
400
L/L
120-170
Lapped & edged
K615
N/Sb
[111] ±0.5°
2"
300
SSP
0.05-0.09
SEMI Prime, 2Flats, hard cst
Q962
N/Sb
[111-3.5°] ±0.5°
2"
300
SSP
0.05-0.09
SEMI Prime, 2Flats, in hard cassettes of 5 & 8 wafers
4958
N/Sb
[111]
2"
2,900
DSP
0.013-0.015
Prime, NO Flats, Individual cst, Group of 5 wafers
9358
N/Sb
[111-2.5°] ±0.5°
2"
280
SSP
0.012-0.017
SEMI, 2Flats, hard cst
6529
N/As
[111] ±0.5°
2"
279
SSP
0.001-0.005
SEMI Prime, 1Flat, hard cst
6649
N/As
[100]
2"
380
OxSSPOx
0.001-0.005
SEMI Test, TTV<5μm, 1,000A oxide on both sides, wafers with visible dopant rings. Group of 38 wafers