Optical Sapphire Wafers
Sapphire wafers are used in teh optoelectronics and microelectronic industries. Unlike less expensive Silicon, Sapphire wafers are used as insulator. Sapphire's Advantages over other substrates include: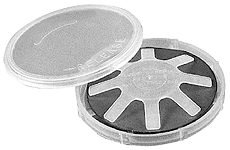 High working temperature
Good thermal conductivitity
Superior mechanical properties
Anti-corrosive
Low dielectric loss
Excellent light transmission.

Sapphire wafers applications include:
Used for Blue LED manufacturing
High TC superconductor
Microwave IC applications
Mechanical parts and vacuum equipment
UV and optics
UniversityWafer, Inc's Sapphire wafers are availble in all orientation including:
UniversityWafer, Inc have all diameters/dimensions from 1mm round to 200mm and thicknesses as thin as 100 micron sapphire available.