Soitec Silicon-on-Insulator Wafers
We have a large selection of Soitech SOI wafers in stock.
Below are just some SOI wafers you can buy as few as one!
Get Your Soitec SOI Quote FAST!
What You Need to Know About Soitec
Soitec is a France based international chemical company specialized in producing and developing high performance all-conductor materials. Its most popular product is the silicon on insulator, which has enabled its global customers to address a wide range of electro-mechanical design needs. The silicon on insulator (or SiO2) is an extremely effective electrical conductor, having excellent electrical characteristics that are highly reliable and able to work under a variety of operating conditions. This means that it is also capable of working in various temperature ranges and atmospheric pressure levels. All these are the factors that have made the company so famous.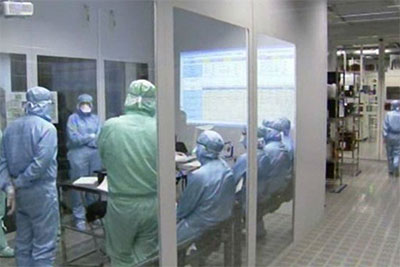 Typical Semiconductor Lab
The silicon on insulator is found throughout several industries. It is used in the manufacture of high temperature superconductors. Another field in which this material is being used extensively is the aerospace and defense industry. As the demand for superior electrical conductivity is rising at an alarming rate, many companies are looking for ways to reduce their costs. By outsourcing their production requirements to Soitec, these companies can save significant amounts of money on buying materials that are generally not cost-effective.
The versatility of the silicon on insulator is another one of its unique selling points. Since it is highly effective at conducting electricity, the material can be used in a number of different applications, such as wiring and plumbing. This is one of the reasons why so many different industries are now turning to Soitec for the production of their products. Other examples of where the material is already being used include aircraft components, seals, pipes, connecting wires and even implantation fixtures. Because of the extreme accuracy that is required in such intricate production process, the precision with which this material is manufactured is also one of the reasons why it is so popular.
Another advantage of this material is that it is highly flexible and very easy to work with. It has a high melting point, which means it is able to maintain a solid form even under high temperatures. This makes it the perfect choice for high-end production processes where a certain level of accuracy is required.
In addition to its high resistance to abrasion, Soitec also has a good heat conduction property, making it ideal for hot-milling operations. It can also withstand extreme temperatures, which is something that most industries have been worried about over the years. This quality coupled with the low cost of material and the fast turnaround time is why Soitec has seen such a tremendous demand for its products. With these features and many more, this is one material that is quickly growing in popularity.
If you are interested in using Soitec, then you will need to find a qualified installation company that is familiar with its properties. When you have a property that needs to be converted to commercial production, then you should find a local expert who has experience in this field. You should also keep in mind the type of machinery that will be needed to install your Soitec. If you already have equipment in place, then you will have a lot more flexibility. On the other hand, if you are looking for a completely custom solution, then you will need to make sure that you get everything on site in one fell swoop.
The next step is to find out what types of materials are available for Soitec manufacturing. While it is true that there are some restrictions on how much that can be made from certain kinds of material, there are also many options. For example, metal fabrication is the only way that you can manufacture Soitec from stainless steel. At the same time, polyester and nylon are also common choices. If you are able to find a manufacturer who can work with any material that you have available, then your production costs will be much lower.
Finally, when you begin to look at Soitec production, you will see that it will take time to get it all set up. Even though you will not be using as much machinery during this process, you still need to have skilled labor nearby. In addition to having skilled labor, you should also have a good communication system so that you can communicate with the manufacturer over every single step of the production process. By taking your time, setting up a good communication system, and taking advantage of as many resources as possible, you can ensure that you get the best results possible.
Below are Just Some of the SOI and Soitec Unibond SOI That we have in stock
SOITEC, a leading supplier of technical substrates for solar power plants, today announced that its Concentrix Solar Division has joined the Transgreen Initiative. Soitec, one of the world's leading providers of high-performance solar modules, today announced the establishment of a Trans-Green partnership with TransGreen Initiative (TGI), a non-profit organization. Soitec, the leading supplier of advanced solar modules and engineering substrates, today announced the establishment of the Trans Green Initiative (tm) to develop solutions for renewable energy. [Sources: 2, 7]
New Sale on Simox SOI Wafers!

Device Layer (nm)
Box Layer (nm)
Handle Layer (um)
TTV (um)
Qty in Stock
55
145
725+/-15
<1
184
70
145
725+/-15
<1
253
70
2000
725+/-15
<1
1756
75
250
725+/-15
<1
18
80
1000
725+/-15
<1
374
88
200
725+/-15
<1
23
145
1000
725+/-15
<1
9166
160
400
725+/-15
<1
24
300
300
725+/-15
<1
43
400
150
725+/-15
<1
21
700
2000
725+/-15
<1
22
1250
145
725+/-15
<1
353
1250
400
725+/-15
<1
19
2100
400
725+/-15
<1
16
3500
400
725+/-15
<1
46
3000
300
725+/-15
<1
4414

GlobalWafers was founded in 2011 and is headquartered in Hsinchu, Taiwan. GlobalWafers is a manufacturer and supplier of silicon wafer ingots. The company offers a range of thin film substrates for IC manufacturing, including bound SOI, which trade under the trade name UNIBOND. SVM supplies thick and thin film silicon for insulator wafers up to 200 mm to meet each customer's unique specifications. In the SoI project, which covers the concept from finishing to the production of high-performance solar modules and technical substrates for solar power plants, S VM also supplies the processing of silicon into insulators and shafts. [Sources: 0, 6, 10]

Soitec also uses its Smart Cut technology to develop specially developed, tailored wafer solutions for SOI. His goal is to establish his Smart-Cut-TM as the standard for the production of high-performance, low-cost silicon wafers. The increased performance requirements for these new applications are met by the use of the company's Smart Cut TM technology in the production of thin film insulators. [Sources: 9]

The Soitec Group is a leading innovator in technical substrates and solutions that serve as the basis for the production of high-performance, cost-effective silicon wafers. The Group uses its own smart cut technology to develop semiconductor wafer technologies for silicon insulators (SOI), which are becoming the standard for high-performance and cost-effective thin film insulators. SOISIC offers a wide range of products based on emerging processes and ultimately strives to become a major company for fabulous semiconductors. They are using their proprietary "Smart Cut" technology to develop SiliconIsolator (tm) technology, which is designed to become the standard substrate for silicon-to-a-substrate (SOSI) or silicon on a silicon substrate for SOI waves. [Sources: 3, 7, 9, 12]

SOI is becoming the material platform of the future, enabling high-performance, fast chips that consume less power and are produced in large quantities. Soitec direct bonding technology is used to manufacture BSOS substrates using highly tuned semiconductor wafers. BSOs manufactured using the patented Smart Cut (tm) process for the production of silicon-to-silicon substrates (SOSI). The group uses its own "Smart Cut" technology to develop silicon insulators (SOI) that are becoming the standard substrate for high-performance, cost-effective, thin silicon layers on a silicon-to-A (SoI) wafer. [Sources: 2, 4, 8, 12]

The SOI layer electronically isolates the top active silicon layer from the rest of the wafer, and the two wafers are effectively separated. SoI - like a layer on an oxidized cotton wool, this is a plasma that is treated to make contact with the silicon on Sentry 101. The tensed silicon film (104) is transferred to the SO I - as on the wafer 401. This is the "SOI" substrate for the wafer and is called UNIBOND - WAFER 6 after the process shown in Figure 1. A, SOi wafers manufactured using the smart cut process are called "UNIBond WAFers 6." [Sources: 0, 1, 11]

In this case, the two Aleyersa that dissolve are the SOI, which is made of silicon that is about to become a semiconductor substrate. The relaxation phenomenon becomes useful for detachment when two detached layers assimilate into two discs that were previously connected to each other by subjecting them to prestressing until they are adjusted to each other. In the case of a detached wafer with two different layers, they may have different mechanical properties. For example, a layer dissolved by the "SOI" was incorporated into a two-layer bond previously assembled into a single layer, while another layer that dissolved from a wafer with a separate layer of the same material on the other side of it was unable to integrate into it. [Sources: 5]

You will remember that the "SOI" is annealed using a process known as state of the art. SOI is produced in a vacuum chamber, where it is extracted from the weakening zone created by implantation. [Sources: 5]

In addition to its own production, Soitec has strategically licensed its technology to companies such as Shin-Etsu and Handotai and acquired intellectual property related to Smart Cut technology, including full sub-licensing rights for the technology. [Sources: 0]

Soitec's partner ASM International recently announced that it has reached an important milestone in its partnership with AMD, the world's largest semiconductor manufacturer. To confirm the company's growing confidence as a leading SOI provider, the company recently announced that it has received the World-Class Supplier Spotlight Award from Advanced Micro Devices Inc. for its commitment to developing high-performance, cost-effective, high-performance, and high-quality SoI solutions for AMD. With AMD, we offer the highest quality, highest quality and most cost effective solutions in the industry. [Sources: 9]

Sources:

[0]: https://www.semiconductor-technology.com/projects/soitec_bernin/

[1]: https://nanopdf.com/download/electronics-and-sensor-study-with-the-oki-soi-process_pdf

[3]: https://www.fierceelectronics.com/components/soitec-addresses-wafer-level-3d-integration

[5]: https://www.google.com/patents/US20050101104

[6]: http://www.fkicns.me/soi-wafer-cost/

[8]: https://www.psemi.com/newsroom/press-releases/698509-soitec-increased-production-of-bonded-sos-wafers-to-meet-peregrine-semiconductor-demand

[9]: https://www.design-reuse.com/news/6244/soitec-reaffirms-commitment-support-taiwanese-foundries-move-toward-soi.html

[10]: https://www.marketsandmarkets.com/ResearchInsight/global-silicon-on-insulator-market.asp

[11]: https://www.google.co.in/patents/US20060189096

[12]: https://www.nanotech-now.com/news.cgi?story_id=41081

| | | | | | | | |
| --- | --- | --- | --- | --- | --- | --- | --- |
| Item | Dia | Typ/Dop | Ori | Res ohm-cm | Handle | Device nm | Oxide μm (or nm) |
| 2327 | 25mm sq | P/B | (100) | 14-22 | 625 | 500 | 3 |
| 2377 | 150mm | P/B | (100) | 14-22 | 675 | 100 | 200nm |
| 2415 | 150mm | P/B | (100) | 13.5-22.5 | 625 | 500 | 3 |
| 2265 | 200mm | P/B | (100) | 9-16 | 725 | 145 | 135 |
| 2266 | 200mm | P/B | (100) | 9-16 | 725 | 190 | 150 |
| 2551 | 200mm | P/B | (100) | 1-20 | 725 | 70 | 2,000nm |
| 2268 | 300mm | P/B | (100) | 9-16 | 775 | 50 | 145 |
What are Soitec Unibond Silicon-on-Insulator Wafers?
Soitec unibond silicon on insulator wafers solve two problems with conventional bonding. They are more affordable and provide key uniformity and performance advantages. They also solve the cost barrier. This article outlines the benefits of silicon on insulator. Read on to learn more. Then, contact Soitec for more information. We'll explain the benefits of silicon on insulator and the differences between conventional and unibond silicon.
Unibond silicon on insulator wafers solves two limitations of conventional bonding
UNIBOND silicon on insulator (SOI) wafer fabrication is very similar to SDB-SOI wafer production, but is distinct from that process in that the device layer is thinned, using a smart cut process. During this process, the raw silicon wafer is bonded at ambient temperature to a substrate, annealed at 400-600deg C, and then splits at the hydrogen-implanted layer. The result is a finished silicon wafer with very low defect levels and pin-hole-free surface silicon. The remaining wafer is reclaimed and polished.
Traditionally, the sacrificial layer of a silicon-on-insulator wafer is bonded to a semiconductor chip using direct wafer bonding. Direct wafer bonding is a promising technology for manufacturing three-dimensional microelectronic systems and silicon-on-insulator substrates. However, it is difficult to achieve high bond quality due to two limitations: the surface roughness and the depth of etching. The depth and the etched pattern play a significant role in bonding, and the deeper the etched patterns are, the better the bonding quality.
In contrast to conventional bonding, Unibond silicon on insulator wafer technology solves both of these problems. Because Unibond silicon on insulator wafers are made of high-purity alumina, it is easier to form thin films than SiO2 and has a much lower probability of bonding with glass. In addition, it has superior chemical reactivity and superior thermal conductivity.
In addition to being able to produce 300 mm-diameter SOI wafers, Unibond also offers a high-quality wafer-level III-V-to-Si bonding process. High-resolution acoustic microscopy (RAM) can be used for interface inspection. The spectral scheme can be used to bridge experimental and multiscale modelling data to solve two problems with conventional bonding.
The most common problem in silicon-on-insulator technology is the lack of space on a wafer. The solution is to bond the two wafers together by using a process known as ion implantation. In this process, the ion implantation creates a microbubble layer on the first wafer and a microbubble layer on the second wafer. Then, the two wafers are bonded together under a controlled temperature below 20 degrees Celsius.
It saves the traditional bonding cost barrier
Ion implantation is a new technique that solves the cost barrier associated with conventional wafer bonding and provides uniformity of thin SOI layers. Compared to traditional epitaxial growth, it also saves the second insulator wafer. This saves cost while ensuring good scalability. Several other benefits of this method include improved process control, a new degree of design freedom, and a higher level of quality.
To bond a MEMS device structure to an ASIC wafer, a BCB polymer is required. This layer functions as an electrical isolator, groove filler, and adhesive for wafer bonding. The polymer must be stiff enough to maintain the air gap. Many studies have been performed on the patterned BCB layer. Partially-cured BCB has been proven to be a strong adhesive for wafer bonding.
The novel method allows wafers to remain aligned during adhesive bonding. It also provides solid-state material contact between the wafers and avoids shifting. This technique saves the traditional bonding cost barrier on insulator wafers. This method is also flexible and economical, saving the traditional bonding cost barrier. It can also be used in other manufacturing processes.
Okmetic BSOI wafers are produced using a bonding process between two silicon wafers with an oxide layer between the top and bottom handle. This buried oxide layer is an excellent electrical insulator and acts as a sacrificial layer in device manufacturing. The handle wafer functions as a sensing element, sealing structure, and device layer. The quality of Okmetic BSOI wafers is identical to that of bulk silicon wafers.
It improves performance
Pourec unibond silicon on insulated (SOI) wafers improve device performance by reducing heat and power while improving speed. These unique products are made of three layers: an active silicon layer, a buried oxide layer of electrically insulating silicon dioxide, and a bulk silicon support wafer. The film properties of these wafers are slightly different from those of conventional SOI materials.
The SOI method is also able to reduce parasitic capacitance, also known as stray capacitance. This phenomenon occurs when circuit elements are disconnected from their ideal electrical behavior. The upper silicon layer of SOI wafers increases resistance to latchup, a problem where an overheated MOSFET can disrupt power and cause damage, which requires another power cycle to correct. SOI wafers also have lower radiation and soft error rates. The insulating layer also reduces the leakage of current.
SOI technology is also suitable for high-temperature applications, where a silicon-on-insulator wafer layer minimizes parasitic junctions and reduces leakage currents. The SOI technology allows electronics to operate in a wider temperature range than their conventional silicon counterpart. In this paper, a SOI-based temperature sensor is described. The sensor incorporates a temperature-to-frequency relaxation oscillator circuit. It was tested at extreme temperatures ranging from -190 to 210 C and was able to restart.
It provides key uniformity and performance advantages
Soitec's proprietary Smart Cut process transfers ultra-thin layers of silicon from one substrate to another. During the process, the wafer is cut horizontally and thermally activated to form the next layer of silicon. This enables Soitec to reuse a single substrate many times. Top silicon and buried oxide layers can be as thin as 20 nanometers, and the process can also create multiple layers of ultra-thin SOI.
Top silicon thickness uniformity is critical to achieve optimal results. Soitec's Smart Cutprocess achieves uniformity of 3.2 Angstroms (or about a quarter inch between San Francisco and Chicago!), a world-class standard. Furthermore, the FD SOI technology is planar and scalable, and history effects are avoided, making for a seamless transition from conventional to SOI-based technologies.
In semiconductor manufacturing, silicon on insulator wafers are the most cost-efficient and most efficient way to manufacture advanced semiconductor devices. The process also requires significantly less labor and materials. It ensures an accurate and uniform distribution of silicon throughout the device. It also offers added protection against environmental factors. Aside from cost savings, Sotec unibond silicon on insulator wafers provides key uniformity and performance advantages
Soitec has expanded its capacity to 2 million 200mm equivalent wafers, making the technology even more affordable and competitive. Silicon on insulator wafers are also highly efficient and faster. While they are more expensive than traditional materials, they compensate for their added cost through process cost reduction. Moreover, SOI wafers are more advantageous when geometries are small and power density is of prime importance.
In addition to the benefits associated with high-quality SOI wafers, Sotec Unibond silicon on insulator wafer technology also offers low-cost wafer integration. The process produces 300 mm high-quality SOI wafers that are compatible with III-V-to-Si bonding. It also allows for easier inspection of interfaces by Normaski optical microscopy and high-resolution automatic scanning acoustic microscopy.