What Are MOCVD Equipment?
If you're starting a new company or you want to start a small business, MOCVD equipment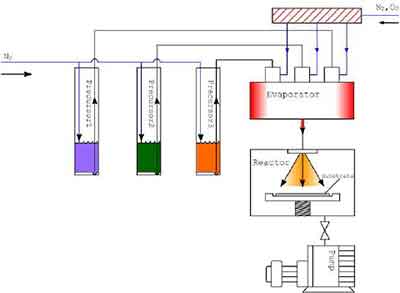 is a great place to start. This technology produces a variety of materials such as inorganic and organic semiconductors. It also helps you make the next generation of displays and electronic devices. For instance, microLEDs and miniLEDs are ideal candidates for next-generation displays. In addition, vertical-cavity surface-emitting lasers, or VCESLs, are being used to make facial recognition features on smartphones. These devices convert electrical energy into visible light and unlock the device.
After loading wafers into a MOCVD system, pure gases are introduced into the reactor. The gas flow contains chemical precursors that react with the device's surface and grow crystalline layers on the device. This method of crystallization is known as epitaxy, and is widely used for semiconductors and other III-V materials. Gallium nitride-based materials, including sapphire and silicon, are created using MOCVD.
Today, MOCVD systems are popular in the LED industry. They can grow epitaxial layers and films, which are the components of the LED semiconductor architecture. In the past few years, MOCVD equipment manufacturers have advanced the science and improved the efficiency of the process, resulting in higher component performance and higher production throughput. Aixtron and Veeco have long shared the lead in the MOCVD equipment market, but AMEC has overtaken them in recent years.
The first MOCVD equipment is a cold-wall reactor. The substrate is placed in a cold-wall reactor, which is supported by a pedestal. The pedestal serves as the susceptor, while the walls of the reactor are made of quartz, which is highly transparent to electromagnetic radiation. The materials in these devices are applied to a wide range of applications. They are used in the production of quantum well lasers, LEDs, and other semiconductor components.
The first MOCVD equipment in the market is called a cold-wall reactor. It is a special kind of reactor that supports the substrate and pedestal. This machine is able to load and remove epitaxial wafers in one step. The second MOCVD equipment is known as a hot-wall system. Both of these types of machines are important in the semiconductor industry. If you're looking for a high-quality process, you'll want to look for an OEM with a high quality product.
The MOCVD equipment market has experienced a mixed picture in recent years. While some vendors are able to maintain profits, the demand for MOCVD equipment is expected to grow at a slower pace. In 2020, the market will reach $445 million, up from $465 million in 2019. This technique was invented by North American Aviation in 1968. It is used to deposit III-V and GaN on substrates. In the long run, the MOCVD technology is an indispensable tool for any manufacturing operation.
In the last few years, the MOCVD equipment market has experienced a mixed picture. While MOCVD equipment vendors are hoping that the market will recover in 2020, it may take some time. In 2020, the market is predicted to reach $445 million. In 2019, it was at $465 million. For the most part, the MOCVD equipment market is used to create materials that are used in different applications. For example, this technology has been used for semiconductors, VCSELs, mini/microLEDs, power devices, and RF devices.
The market for MOCVD equipment has seen a mixed picture. While vendors expect a rebound in 2020, the market has been flat for the past several years. In 2020, the market is projected to reach $445 million, up from $465 million in 2019. Despite the slowdown, MOCVD equipment will remain an essential tool in manufacturing. Historically, this technology has been associated with LEDs for decades. In the past decade, it has now become a popular technology for smartphones, including the iPhone X.
While the market is still experiencing a mixed picture, the overall outlook for MOCVD equipment is positive. It is expected to grow to $445 million by 2020, from its current level of $465 million in 2019. Founded by North American Aviation in 1968, MOCVD was a breakthrough technology in aerospace. The first tools were home-built and used to deposit III-V materials on the surface of a substrate. As the technology continues to grow, more companies are becoming interested in it and looking to purchase it.