We are looking for a 75 micrometer thick <100> undoped Si wafer (4 inch). Is it possible to purchase 75 micrometer thick wafers? I hope it is not too hard to handle because it's too thin.
Our research group is working with Si wafers for the first time, so we are not really familiar with them.
We need both sides to be really flat, so I'm guessing double side polished? We are looking to purchase 10 of them.
We need to do PECVD and KOH etching to create holes and make a silicon mesh.

The purpose of the oxide layer was just to create a mask that resists KOH. Is there also a photoresist that resists KOH? We were planning to use KOH etching to create a square conical hole like a pyramid.
Also, can p-type wafers also create slopes of 54.7 degrees while they are etched in KOH?
If there's a photoresist that resists KOH, then I think the procedure would be:
1. Apply photoresist and create a pattern through photolithography
2. Dip it in KOH to create holes in the Si wafer
UniversityWafer, Inc. Quoted the following. Please contact us for pricing.
Item      Qty.   Description
GX64. 10/25   Silicon wafers, per SEMI Prime, P/P 2"Ø×75±10µm,
p-type Si:B[100]±0.5°, Ro=(1-20)Ohmcm,
Both-sides-polished, SEMI Flat (one),
Individually packed.
Step 1. Silicon Mesh Fabrication
2. Silicon Wafer Mesh Hard Mask Deposition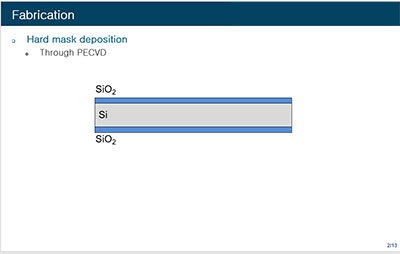 3. Silicon Wafer Mesh Photolithography
4. Silicon Wafer Mesh Wet-Etching
5. Silicon Wafer Mesh KOH Etching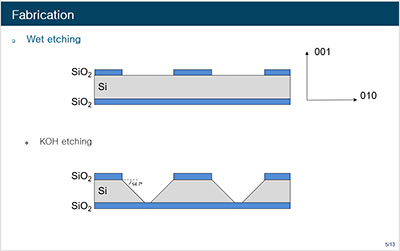 6. Silicon Wafer Mesh HF Etching